I love to show off our city, and with John's family and friends being in United States, we get visitors almost every summer for whom I can play tour guide. Hopping into a car2go is an easy way to make the most of a full day around town when you want to show off a lot of sights. There are always a few place I love to take visitors which I think are "must sees" for everyone that wants to experience Vancouver:
5 Best Places to Take an Out of Town Guest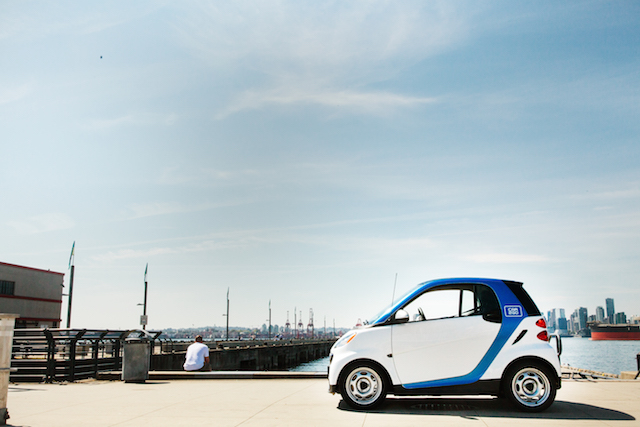 Museum of Anthropology
car2go parking: Closest parking a short walk away at UBC Arno Lot- 6300 Crescent Rd
Begin your introduction to Vancouver by going back to the start of its cultural heritage at the Museum of Anthropology. The museum is renowned for its displays of world arts and cultures, in particular works by First Nations of the Pacific Northwest.
The special exhibition this summer is "In the Footprint of the Crocodile Man", featuring contemporary art of the Sepik River of Papua New Guinea. The museum shop is also one of the best in the region.
The Beach
car2go parking: In these beach areas, there is on street parking for permit, resident only, 2 hr, or areas with no signage where members can end their trips.
Spanish Banks, Jericho, and Kits Beaches all offer stunning views of the North Shore Mountains and Downtown Vancouver in the distance. Here you'll find locals out walking their dogs, playing on the sand banks, and having picnics on warm summer days. Even in the winter, a beach stroll with warm beverage in hand is always a fine idea.
Sitting on the edge of Vancouver's eastern boundary, New Brighton Park is a unique combination of community facilities, panoramic mountain views, beach-side paths… and industry. Flanked by traffic rushing by on the Ironworkers Memorial Bridge and trains pulling out from the port, it's a surprisingly quiet pocket of green space.
False Creek
car2go parking: There is on street parking for permit, resident only, 2 hr, or areas with no signage where members can end their trips. For Granville Island car2go has dedicated parking by Bridges Restaurant and Granville Hotel
Park the car, hop a water taxi, and criss cross this busy waterway, returning on foot around the sea wall. Watch dragon boaters slip past in unison, stop on a patio for some lunch with views of the city and mountains. Check out the Vancouver 2010 Olympic Village and how the area has turned into a bustling community with shops, services, craft breweries, cafes and restaurants.
Make Granville Island your start and end point while you discover the seaside culture of Vancouver along this marine thoroughfare, where you can also pick up some fresh seafood from right off the boat.
Coal Harbour
carg2go parking: Designated car2go parking can be found by the Coal Harbour Community Centre and overflow parking at 200 Granville (next to Waterfront Station).
From cruise ships at Canada Place and the Olympic Cauldron, to patio dining by the inlet, and the entrance to Stanley Park, Coal Harbour provide a great taste of Vancouver for visitors.
Head west on the Seawall toward Stanley Park, watch float planes land, and have a picnic on the lawn at Harbour Green Park. Coal Harbour showcases the city, the sea, and the beautiful views we have of the North Shore.
North Vancouver
carg2go parking: Designated parking is located at 200 E Esplanade Ave. 5 spaces on the south side and unlimited overflow in permitted in any unreserved parking space on the lot.
Cross the iconic Lions Gate Bridge and get a view of the city from across the water. Shop for local produce and artisanal ingredients at the Lonsdale Quay Market, enjoy a sunset from a patio near the Shipyards or shop the night market, and take advantage of a great photo op from Waterfront Park.
car2go is an entire fleet of free-floating, low-emission, self-service smart fortwo cars distributed all over the city. Its tech-friendly booking makes it a great option for getting out and about to enjoy Vancouver. Members can go to the car2go website to view a live map that shows all car2go parking spaces, and reference this FAQ PDF. Just click on parkspots to see where they are on the map. This feature is also available on the app.
Sign Up Deal
car2go is offering up free registration and 15 minutes of drive time* this summer when you sign up here, and use the code C2G15.
Follow car2go on Facebook and Twitter for more information about the service in your area.
*Restrictions and fees may apply. Registration deal/code is valid 5/2/2016- 6/12/2016.
Offer only valid in Vancouver until June 12th, 2016. One redemption per member. Drive time will be valid in Vancouver for 45 days from the date of issuance. This offer is not redeemable for cash or other credit.