The BC Sports Hall of Fame is celebrating its 50th anniversary and in the 50 days leading up to its annual Banquet of Champions, presented by Canadian Direct Insurance on Thursday, June 9th, they're pinpointing the Top 50 Golden Moments in BC Sports History.
Top 50 Golden Moments in BC Sports History
Sports fans from across British Columbia nominated 212 different events that were considered by sport historians, media and honoured members of the BC Sports Hall of Fame in the process of selecting the Top 50 Golden Moments in BC Sports History.
Among the treasured memories are 14 seeded moments that will receive byes into the second round of voting:
The 1954 Miracle Mile at Empire Stadium
Sidney Crosby's Golden Goal at the Vancouver 2010 Olympics
Terry Fox's Marathon of Hope
Percy Williams' 100m Olympic final in 1928
Nancy Greene's giant slalom gold medal at the 1968 Winter Olympics
Rick Hansen's 40,000km Man in Motion World Tour
Vancouver Whitecaps 1979 NASL Soccer Bowl championship
Steve Nash's NBA back-to-back MVP seasons (2004-05 and 2005-06)
Vancouver Millionaires win BC's first Stanley Cup championship in 1915
Karen Magnussen's 1973 women's world figure skating championship
Vancouver Canucks Game 6 of the 1994 Stanley Cup Finals
Lui Passaglia's game-winning field goal for the BC Lions in the 1994 Grey Cup
Canadian Women's Soccer Bronze at London 2012 Summer Olympics
Larry Walker's 1997 NL MVP award
Remaining 36
The remaining 36 moments were seeded as part of a public draw at the Hall. A list of the full 50 moments that are being ranked is available online, here they are in chronological order:
1908 – The New Westminster Salmonbellies win BC's first national lacrosse title, out- scoring the Montreal Shamrocks 12-7 in the two-game total-point Minto Cup series.
1908 – Victoria's Robert Powell reaches the semifinals at Wimbledon, unmatched by any Canadian male in singles until Milos Raonic in 2014.
1910 – Bob Brown arrives in Vancouver in 1910, purchases the Vancouver Beavers baseball team to keep them and professional baseball in Vancouver, then quickly establishes himself as the key builder in BC baseball over the next four decades, elevating Vancouver in particular on the North American baseball map.
1925 – The Western Canada Hockey League's Victoria Cougars defeat the NHL's Montreal Canadiens in four games to capture the best-of-five Stanley Cup Final for BC's second, and to date, last Stanley Cup win.
1930 – UBC's women's basketball team representing the 'West' at the Women's World Games in Prague, Czechoslovakia defeats France 18-14 in front of 10,000 spectators to claim the world title, the earliest won by a BC women's team in any sport.
1933 – Vancouver boxer Jimmy McLarnin wins the world welterweight championship in Los Angeles, knocking out Young Corbett III in the first round.
1938 – The Vancouver Asahi baseball team win three championships in 1938—Burrard, Commercial, and Pacific Northwest—ranking as one of BC's most popular teams and a beacon of inspiration for BC's Japanese-Canadian community.
1950-1958 – The Vancouver Eilers Jewellers Senior 'A' women's basketball team wins nine consecutive senior Canadian national basketball titles in one of the great BC team dynasties of any sport in any era.
1953 – Vancouver's Doug Hepburn hoists a three-lift total weight of 1030-lbs to win the world heavyweight weightlifting championship in Stockholm, Sweden and earn the title of 'world's strongest man.'
1955 – The Penticton Vees, representing Canada at the world ice hockey championship in Krefeld, Germany, defeat the Soviet Union's national team 5-0 in the tournament's final game to reclaim world hockey supremacy for Canada, a year after the Soviet Union dished out a 7-2 humiliation.
1956 – Frank Read's UBC-VRC rowing crews again did Canada proud winning two Olympic medals in Melbourne, Australia. Canada's Fours crew, consisting of UBC students Don Arnold, Lorne Loomer, Archie McKinnon, and Walter d'Hondt, won Canada's first-ever Olympic gold medal in rowing.
1961 – Backstopped by the stellar play of goaltender Seth Martin, the Trail Smoke Eaters representing Canada defeat the Soviet Union's national team 5-1 in their final tournament game to clinch the world ice hockey championship in Geneva, Switzerland with an unbeaten 6-0-1 record.
1964 – North Vancouver's Harry Jerome recovers from a ruptured thigh muscle to win an improbable 100m bronze medal at the 1964 Olympics in Tokyo.
1964 – Paired together just weeks before the Olympics in Tokyo, UBC rowers George Hungerford and Roger Jackson win pairs rowing gold in one of the more unlikely Olympic victories in Canadian sport history having never rowed together previously.
1964 – The BC Lions win their first-ever Grey Cup championship defeating the Hamilton Tiger-Cats 34-24 at Toronto's Exhibition Stadium, much to the delight of football-mad BC. The victory avenged the Lions' 1963 Grey Cup loss to Hamilton a year earlier.
1966 – West Vancouver's 'Mighty Mouse' Elaine Tanner wins a record seven Commonwealth Games swimming medals (four gold, three silver) in Kingston, Jamaica at just 15 years of age.
1966 – The BC Rugby Union representative side defeats the British Lions (a representative side featuring the best players from England, Scotland, Wales, and both Irelands) 8-3 in 1966 at Empire Stadium.
1967 – At age 14, Haney high school high jumping phenom Debbie Brill invents the 'Brill Bend' high jumping technique that helps revolutionize the sport around the world and shocks seasoned high jumping coaches and observers that an athlete so young could develop such a radically new technique.
1980-86 – Under the coaching of Ken Shields, the University of Victoria Vikes win a CIS- record seven consecutive national basketball championships from 1980-86 and made the CIAU finals in nine of Shields last eleven years at UVic—one of the great runs in Canadian university basketball history.
1984 – Jockey Chris Loseth rides eight winning horses on a ten-event card at Vancouver's Exhibition Park (today Hastings Park) in front of 4398 hardy souls on a very blustery and rainy night on April 19, 1984 to etch his name in the Guinness Book of World Records for most wins on a single racing card.
1989 – Whistler skier Rob Boyd becomes the first Canadian male racer to win a World Cup downhill in his home country, winning in his hometown in 1989.
1992 – Victoria's Silken Laumann overcomes a devastating leg injury and five subsequent operations suffered only ten weeks prior to the 1992 Olympics in Barcelona to capture a bronze medal in single sculls rowing. Many consider it one of the greatest comebacks in all of sport.
1992 – 2010 – Cranbrook's smooth-skating Scott Niedermayer wins every major North American and international hockey championship available to him and remains the only player in hockey history to accomplish this remarkable feat.
1994 – BC golfers Dave Barr, Rick Gibson, and Ray Stewart lead Canada to a historic 1994 Dunhill Cup win in Scotland.
1996 – Shouldering the pressure of high expectations, Vancouver rowers Kathleen Heddle and Marnie McBean win gold in double sculls and bronze in quadruple sculls at the 1996 Olympics in Atlanta to become the most decorated Canadian Olympians in history to that point.
1997 – Driving for the Player's Forsythe Racing Team on the CART/PPG Indy Car World Series racing circuit, Maple Ridge's Greg Moore at age 22 becomes one of the youngest winners in North American open-wheel racing history by taking the checkered flag at the Milwaukee Mile holding off Michael Andretti by less than a second.
2000 – Two BC-based curling rinks—Kelley Law's Richmond Winter Club curling rink and Greg McAulay Royal City Curling Club rink out of New Westminster—win the women's and men's world curling championships on the same day in Glasgow, Scotland.
2000 – Victoria's Simon Whitfield rebounds from a crash on the bike portion of the first- ever Olympic triathlon with a blistering finishing kick to pass all competitors and win the sport's inaugural Olympic gold medal in Sydney, Australia.
2008 – The daughter of Vietnamese refugees who built a new life in small-town Hazelton, BC, Carol Huynh (appropriately pronounced "win") wins an emotional Olympic gold medal in women's 48-kg freestyle wrestling at the Beijing Olympics.
2010 – Rosemere, Quebec's Alexandre Bilodeau wins gold in moguls skiing at the 2010 Olympic Winter Games to become the first Canadian athlete to win Olympic gold on home soil after Canada was shut out for gold while hosting both the 1976 and 1988 Olympics.
2010 – West Vancouver's Maëlle Ricker wins Olympic snowboard cross gold on Cypress Mountain—just twenty minutes from where she grew up—to become the first Canadian woman to win Olympic gold on home snow.
2010 – Devastated over the sudden loss of her mother two days before the women's Olympic figure skating competition began at Vancouver's Pacific Coliseum, Canada's Joannie Rochette summons remarkable courage, strength, and composure to win an emotional Olympic bronze medal, Canada's first in women's figure skating in over twenty years.
2010 – Already Canada's most decorated Winter Paralympian of all time going into the 2010 Paralympics, North Vancouver's Lauren Woolstencroft wins a remarkable five gold medals, tying a Winter Paralympic record.
2010-11 – The Vancouver Canucks' Henrik and Daniel Sedin win back-to-back NHL scoring titles in 2009-10 and 2010-11 respectively, the first and second Canucks to ever win this award.
2012 – Mission's Brent Hayden caps one of the great swimming careers in BC history by winning a bronze medal in the 100m freestyle at the 2012 Olympics in London.
2014 – Fort St. John's Denny Morrison wins the 1000m speed skating silver medal at the Sochi Olympics to complete one of the most heartwarming stories in recent Olympic history.
Public Voting
Check in through six rounds of public voting:
Round 1 (18 match-ups): April 21 – May 5
Round 2 (16 match-ups): May 7 – May 12
Round 3 (8 match-ups): May 14 – May 19
Quarterfinal (4 match-ups): May 21 – May 26
Semi-final (2 match-ups): May 28 – June 2
Final: June 4 – June 8, 2016
Banquet of Champions
The "Final Four" will be celebrated at the Banquet of Champions on June 9th. This year's class, which will be formally inducted at the Banquet of Champions at the Vancouver Convention Centre, includes BC sports icons like Wally Buono, Steve Nash, Geri Donnelly and Carl Valentine.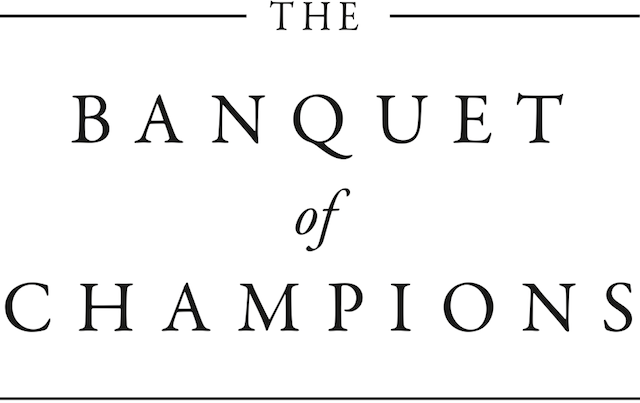 Follow the BC Sports Hall of Fame on Facebook and Twitter for more information – and be sure to get your early bird tickets for the Banquet of Champions to be a part of celebrating sport history in BC.
Miss604 is the proud social media sponsor of the 50th Banquet of Champions