by

Disclosure: Sponsored Post

— This post is sponsored by Travel Alberta. Views and opinions are my own. Please review the Policy & Disclosure section for further information.
As the first snow started to fall last autumn, John and I got to experience the rugged beauty of the Rockies (along with its culinary and craft beer culture) in between end-of-season adventures. Now as the ice thaws and the snow melts, the Rocky Mountains come alive once more with activities just waiting to be experienced from Calgary and Banff, to Jasper and picturesque places in between.
Springtime in the Rockies
Re-Discover Banff
We're big fans of exploring a region in a variety of ways: On the coast it's about the mountains and the sea, and in the Rockies it's about how many ways you can get out and about for your adventure. In the air (in a helicopter) on trails (on snowshoes) or traversing the alpine (on horseback), and much more.
Banff Trail Riders starts their Bow River Ride (1 hour tour) on April 30th and the rest of their trail ride options start first week of May. Sleigh rides are running now until the end of the season.
Discover Banff Tours host the Johnston Canyon Icewalk and their Snowshoe tours until April 10th. The Discover Banff and Wildlife tours continue year-round with viewings of elk, deer, grizzlies, and coyotes. White Mountain Adventures offers a Sunshine Meadows guided snowshoe tour along with heli-snowshoeing until the end of the season.
Alpine Helicopters and Rockies Heli offer sightseeing tours above the valley, the village, and glacial peaks. John and I enjoyed a sunrise tour with Alpine when we were in Canmore and it was pretty incredible.
Don't give up on the slopes just yet! Spring Skiing continues straight through until May. Combine your day of skiing with unique food and drink pairings: There's the popular Sushi & Ski at Lake Louise Resort and over near Marmot in Jasper you've got Jasper Brewing in town where John and I fell in love with their Dark Sky Dark Rye Lager during the Dark Sky Festival. High Rollers in Banff is also serving up craft in their beer hall & bowling alley for apres enjoyment.
Spring in Jasper
The Jasper SkyTram will be opening earlier this year on March 25th. It's the longest and highest guided aerial tramway in Canada! After your 7 minute flight, you'll reach an altitude of 2277 metres (7472 ft) with a mountain top experience that the whole family will cherish. There are endless views of six mountain ranges, glacially fed lakes, rivers and of course the mountain town of Jasper.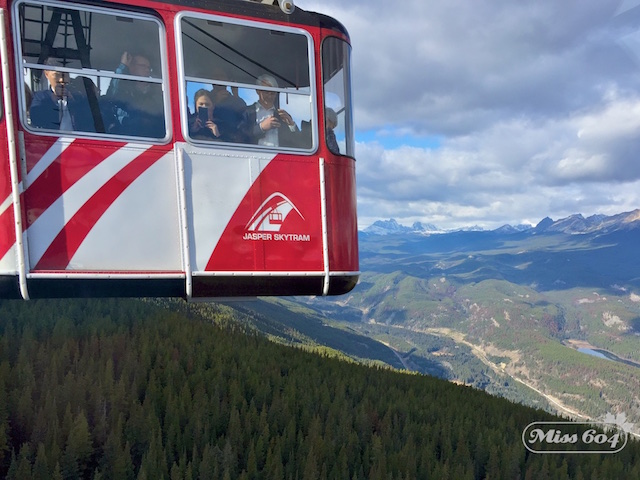 In March there's also the Jasper Pride Festival — and it will be the biggest yet! Running from March 17th to March 20th, there are already 24 events confirmed.
New in Calgary
We an eager, thriving and growing culinary and craft scene in Calgary when we were there in October so I'm thrilled that a Calgary Beer Tour has been launched this year. This is the first and only multi-brewery tour in Alberta. Each tour showcases the local breweries, eateries and distilleries in the Calgary area and the locals who share their passion for quality ingredients and a craft experience.
Finally, springtime in the Rockies really warms up with the hottest music in Canada being showcased at the JUNO Awards and JUNO Week celebrations in Calgary March 28th to April 3rd.
The 45th Annual JUNO Awards will be broadcast on CTV from The Scotiabank Saddledome on Sunday, April 3, 2016.
Enjoy more music in Calgary this spring when Studio Bell opens up at the National Music Centre downtown. It will feature five floors of exhibitions space telling the story of music in Canada, as well as workshops, classrooms, recording studios, bookable event/function space, a 20,000 sq. ft. museum, and more.
To plan your trip and to find out more about what's happening in the Rockies this spring, follow Travel Alberta on Facebook and Twitter.