On Thursday, March 10, 2016, Dining Out For Life returns for its 22nd year in support of individuals and families living with HIV/AIDS and other serious illnesses in BC.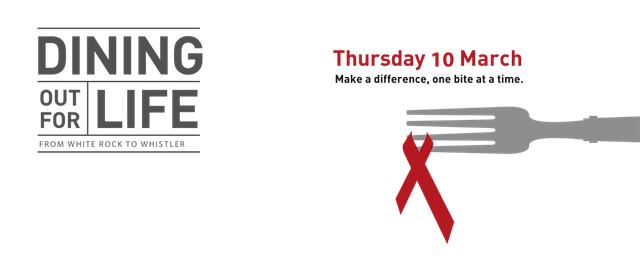 Dining Out for Life
With over 100 participating restaurants, from Whistler to White Rock, Dining Out For Life is British Columbia's largest hospitality fundraiser. A full list of participating restaurants is available online, with all donating 25% of proceeds from breakfast, lunch and/or dinner sales to the cause.
Friends For Life and A Loving Spoonful offer wellness programs, support services and home-delivered meals free of charge to people living with HIV/AIDS and other, co-existing illnesses. They both offer nutritional counselling and meal planning, as well as 60+ support therapies including therapeutic massage, naturopathy, music therapy and yoga.
Enter to win During @VanDOFL
One lucky social-media savvy diner will win $500 at Dining Out For Life 2016. To enter to win, simply dine at a participating restaurant; post a photo of your dish on Facebook, Twitter, or Instagram; tag the restaurant and @VanDOFL; and use the tag #DOFL. Each social media platform gives you another chance to win.
Follow Dining Out for Life on Twitter and Facebook for more information.