Love is in the air, and underwater, at the upcoming adults-only After Hours at the Vancouver Aquarium. Learn all about the unique mating habits of marine life at this one of a kind event.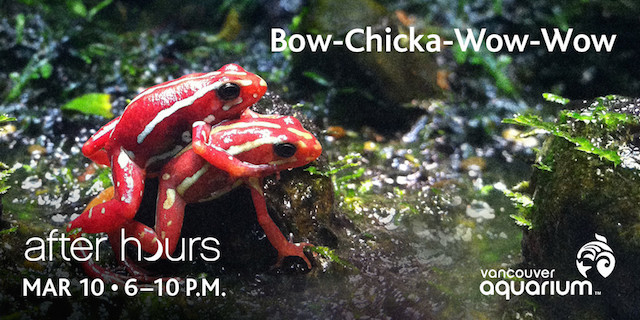 Grab a beer or glass of wine and enjoy access to all our galleries while exploring the Aquarium after dark.
After Hours at the Vancouver Aquarium
When: Thursday, March 10, 2016 from 6:00pm to 10:00pm
Where: Vancouver Aquarium in Stanley Park (845 Avison Way)
Tickets: This event usually sells out! $29 for non-members; $21 for members (prices include tax)
Listen to a hissing cockroach's mating call, learn how sharks can reproduce 4 different ways, and see why diving is sexy in the aquarium's romance-themed programs. Learn about sex underwater with a special presentation from head veterinarian, Dr. Martin Haulena, and catch a screening of the 4D film Great Escapes: Life in 4D.
For more information and to purchase tickets visit the Vancouver Aquarium online or call (604) 659-3400. Note: This is a 19+ event. Photo ID required for entry. No tickets available for purchase at the door. Membership cards will be required for member priced ticket holders.