The 43rd Chinatown Spring Festival Parade (Chinese New Year Parade) takes place Sunday, February 14, 2016. This signature event in Vancouver's Chinatown will feature lion dances, cultural dance troupes, marching bands, martial arts performances and much more.
Vancouver Chinese New Year Parade
Celebrating the Year of the Monkey, the parade will begin at 11:00am and follow a 1.3km route from the Millennium Gate on Pender Street (between Shanghai Alley and Taylor Street), over to east along Pender Street, turning south onto Gore Street, turning west onto Keefer Street and then dispersing on Keefer at Abbott.
The parade features the largest assembly of traditional lion dance teams in Canada with dozens of colourful and energetic lions from various local fraternal and martial arts organizations. Over 70 entries will take part, bringing in 3,000 participants and drawing over 100,000 spectators.
Following the Parade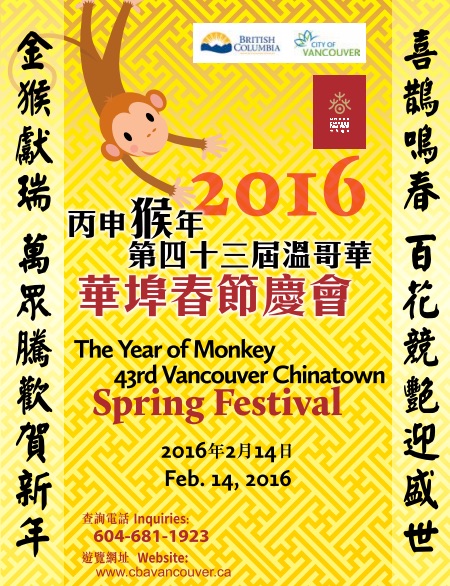 As a Chinese New Year tradition to promote good fortune for the year, some of the lions will be visiting the shops and businesses in Chinatown between 2:00pm and 4:00pm.
Vancouver Chinatown Spring Festival
Throughout the whole weekend, on Saturday, February 13th (1:00pm to 4:00pm) and Sunday, February 14th (2:00pm to 4:00pm), the Vancouver Chinatown Spring Festival will have feature multicultural performances, a special lion dance grand finale, and martial arts demonstrations at the Sun Yat-Sen Plaza (50 East Pender Street).
All events of the 2016 Vancouver Chinatown Spring Festival are open to the public. The Chinese New Year Parade and the Cultural Fair both have free admission. Read more about this event and more via the Chinese Benevolent Association of Vancouver.