BC Family Day is coming up on Monday, February 8, 2016 with cities, communities, and attractions around Metro Vancouver hosting a variety of events and activities for all ages.
» » CLICK HERE FOR THE 2017 LIST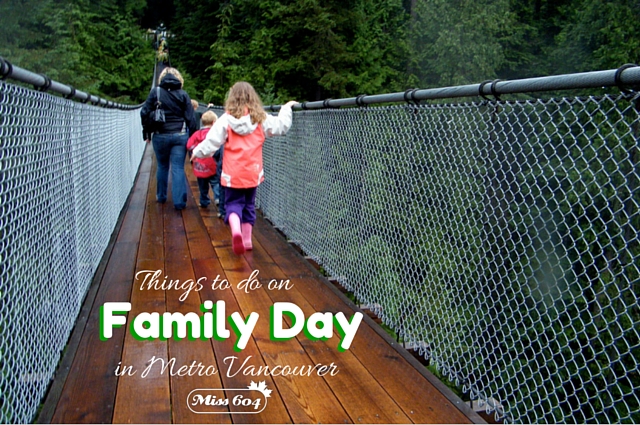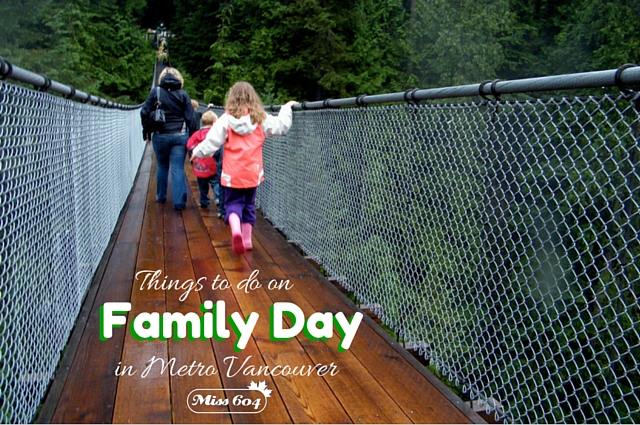 Things to do on Family Day in Metro Vancouver
» Family Day Activities in Surrey with free with activities at:
South Surrey Recreation & Arts Centre
Surrey Sport & Leisure Complex
Chuck Bailey Recreation Centre
Fraser Heights Recreation Centre
Cloverdale Recreation Centre
Fleetwood Community Centre
Guildford Recreation Centre
Newton Recreation Centre
Clayton Hall
Newton Arena
Newton Wave Pool
Cloverdale Arena
North Surrey Arena
Guildford Aquatic Centre
South Surrey Indoor Pool
North Surrey Indoor Pool
*FREE skating and pool admission
» » CLICK HERE FOR THE 2017 LIST
» » CLICK HERE FOR THE 2017 LIST
» Family Day in New Westminster with activities at:
Centennial Community Centre
Greenhouse in Queen's Park
Century House & Youth Centre
Fraser River Discovery Centre
Queensborough Community Centre
Anvil Centre *FREE
River Market
Queen's Park Arenex
Moody Park Arena
Canada Games Pool
» Family Day Activities in Richmond with community centre activities at:
Cambie
City Centre
South Arm
Thompson
Hamilton
Steveston
Minoru Arenas
Richmond Nature Park
Richmond Cultural Centre
*FREE activities
Family Day at Local Attractions
Family Day at the Cannery
Family Day at the Canadian Museum of Flight
Red Mitten Weekend at the BC Sports Hall of Fame
Family Day at VanDusen Botanical Garden *FREE
Family day at the Bloedel Conservatory *FREE
Family Day at Capilano Suspension Bridge
Family Day at the Sea to Sky Gondola
Family Day at Lansdowne Centre
Family Day at the Mennonite Heritage Museum
Family Day on the Drive
Family Day at Lonsdale Quay
Family Day at Kerrisdale Community Centre
Family Day at the Fort
Family Day at Robson Square *FREE
Special Events for Family Day
Musica Intima Family Day Concert
Family Day with the Vancouver Giants
Peace Play Day at Willowbrook
Ongoing Events Happening on Family Day
Shred for a Cause at Mount Seymour
Chitty Chitty Bang Bang
Gateway Theatre Presents: Closer Than Ever
Vagabond Players: Over the River and Through the Woods
Pacific Theatre Presents: Common Grace
Vancouver Hot Chocolate Festival
» » CLICK HERE FOR THE 2017 LIST
If you have an event to add, send it in for free using my Contact Form here.
Subscribe to the Weekly Events Newsletter
If you wish to receive the weekly/weekend event list right to your email inbox, please sign up for the new Miss604 Weekly Events Newsletter below. It will be sent once a week, only to those who opt-in.