by

Disclosure: Sponsored Post

— This post is sponsored by Shaw Communications for their Pink Shirt Promises campaign. Please review the Policy & Disclosure section for further information.
Today is Safer Internet Day, an initiative focused on reducing cyberbullying and promoting responsible Internet use.

Safer Internet Day
When I was growing up, bullying involved punching, shoving, teasing, spreading bad rumours, keeping certain people out of a group, and getting certain people to "gang-up" on others. Now, with so many more ways to communicate online and through mobile devices, there's a whole other way to spread negativity through cyberbullying.
25% of kids in Canada between 12-15 have witnessed cyberbullying and 51% of all teens have had negative experience with social networking.
The scary part is, for me, that a lot of it stems from trust. You trust someone by sending them a private message and then it becomes public. According to cyberbullying statistics*, "the most commonly experienced form of cyberbullying is when someone takes a private email, IM, or text message and forwards it to someone else or posts the communication publicly."
Safer Internet Day is celebrated worldwide each February to promote responsible digital citizenship among children and youth, as well as safer use of online platforms, technology and mobile phone. Participants are encouraged to raise awareness about the importance of online safety by tweeting and posting using the hashtags #SID2016 and #Up2Us. Throughout February, you can also take part in the Pink Shirt Promises campaign.
Shaw Pink Shirt Promises
For over 20 years, Shaw has partnered with leading Canadian organizations that provide award-winning programs and resources on anti-bullying, online safety, and digital literacy.
Starting today, Shaw is asking Canadians to work toward ending bullying by spreading positive messages in the stand against bullying by making a #PinkyPromise or a #PinkShirtPromise to specific friends on their social media channels leading up to and during Pink Shirt Day on February 24, 2016.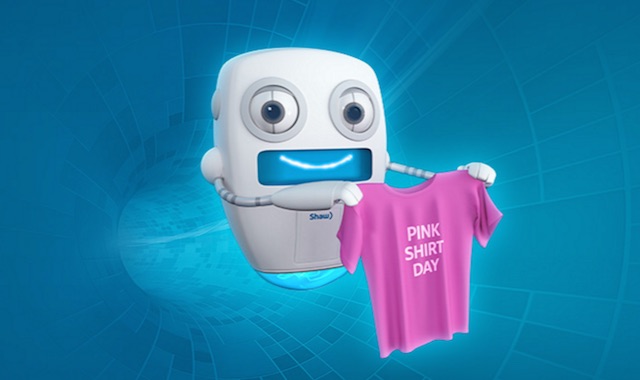 The campaign kicks off today, February 9th in conjunction with the Canadian Centre for Child Protection's Safer Internet Day, and continues until Pink Shirt Day on February 24th. Here's how you can participate:
Take a photo of your pinky and/or a photo of you and a friend making a pinky promise.
Post your #PinkyPromise as the caption of your photo along with the hashtag #PinkShirtPromise.
Nominate three friends to do the same on your social media network.
You can also make your #PinkShirtPromise by posting the following on social media:
I #PinkyPromise to help stop bullying in its tracks. #PinkShirtPromise
I #PinkyPromise to share love, not hate. #PinkShirtPromise
I #PinkyPromise to never be a bully. #PinkShirtPromise
I #PinkyPromise to wear a pink shirt on February 24th. #PinkShirtPromise
I #PinkyPromise to make friends, not enemies. #PinkShirtPromise
I #PinkyPromise to be good to myself. #PinkShirtPromise
I #PinkyPromise to stick up for others. #PinkShirtPromise
For every promise and pinky promise made, participates in the campaign will be entered for a chance to win an ET Canada Experience, which includes flights for two to Toronto and two nights hotel accommodation, and a $1,500 dollar shopping spree at a participating shopping centre.
"Bullying is one of the most common concerns we hear about at Kids Help Phone, and the effect that is had on young people—both emotionally and physically—is significant, regardless of whether they are being bullied or doing the bullying. We're proud to stand in partnership with Shaw Communications to make a #PinkShirtPromise, and create safer and friendlier communities for all kids in Canada." Sharon Wood, President and Chief Executive Officer, Kids Help Phone
About Pink Shirt Promises
Through the Shaw Kids Investment Program (SKIP), #PinkShirtPromise brings together the expertise, knowledge, and resources of community partners from across the country. Key SKIP partners include Youthlink Calgary, Canadian Centre for Child Protection, Kids Help Phone, MediaSmarts, Companies Committed to Kids, and Rock Solid Foundation.
For more information, follow Shaw on Facebook, Twitter, Instagram, and using the tags #PinkyPromise #PinkShirtPromise.
* Source: Microsoft's Truthyworthy Computing division