Megaphone Magazine's local vendors will be showing some local celebrities, politicians, and business leaders the ropes this Thursday as they pair up for the Big Sell.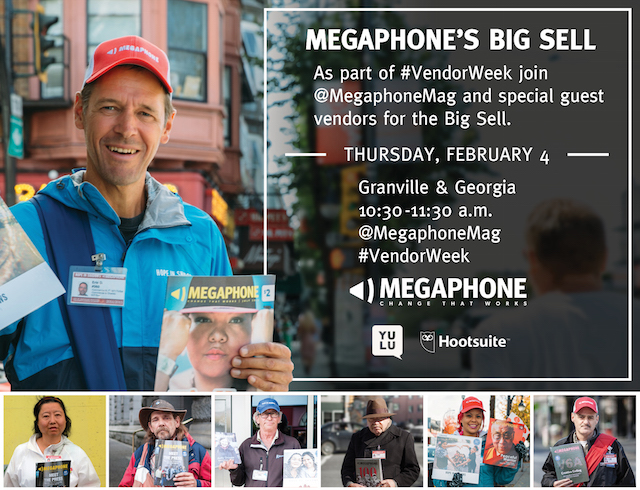 Megaphone Magazine's Big Sell
The Big Sell is a way to raise the profile of homelessness in our communities, and to highlight Megaphone's social enterprise model as a means for low-income people earning an income through meaningful work.
Megaphone is a magazine sold on the streets of Vancouver and Victoria by homeless and low-income vendors. Vendors buy the paper for 75 cents and sell the magazine for $2.
I'll be one of the guests standing alongside one of Megaphone's vendors at the Big Sell from 10:30am to 11:30am on Thursday, February 4, 2016 at Granville and Georgia. I'll be paired up with a Megaphone vendor who will show me how they work.
Megaphone Big Sell Guest Vendors
Ishkandar Ahmed (CEO, Choices Markets)
Cory Ashworth (Broadcaster, Roundhouse Radio)
The Belle Game
Rebecca Bollwitt (Miss604)
Vancouver Canadians Mascot Chef Wasabi
Councillor Adriane Carr (Green Party)
Paul Faoro (CUPE BC)
Gregory Henriquez (Henriquez & Partners Architects)
Trish Garner (BC Poverty Reduction Coalition)
Catherine Ludgate and Linda Morris (Vancity)
Dan Mangan
Councillor Geoff Meggs (Vision Vancouver)
Katrina Pacey (Pivot Legal Society)
Sussane Skidmore (BCGEU)
The Big Sell is part of #VendorWeek, a celebration of street paper vendors around the world. Last year street paper vendors earned $47 million, selling street papers in 35 countries & 24 languages. In Vancouver and Victoria, Megaphone Magazine employed 164 vendors.
Buy a Megaphone from us on Thursday to support people experiencing poverty and homelessness in our city. Megaphone vendors work hard every day to create positive change in their own lives, and in the communities we share. Follow the conversation online @MegaphoneMag.