Vancouver Brewery Tours invite you to slip on your jelly shoes, housecoat, and shades to join them for the inaugural Big Lebowski Brewery and Bowling Tour on Saturday, March 26th.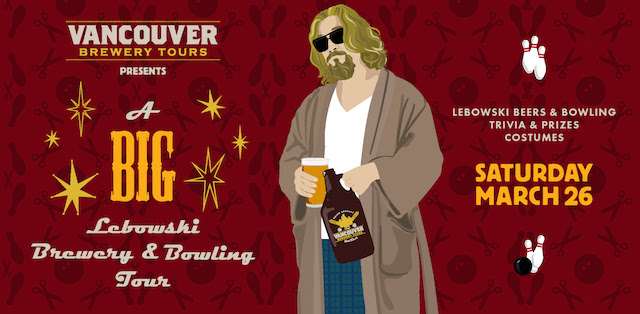 Big Lebowski Brewery and Bowling Tour
The BREW abides! This Lebowski-themed tour includes custom beer samples, costume and trivia contests at local breweries, and of course some bowling at Grandview Lanes.
Tour Times: 12:00pm to 3:30pm or 2:00pm to 5:30pm
About the Ride: Guests will be picked up and dropped off at Waterfront Station in downtown Vancouver, and shuttled between stops in the Vancouver Brewery Tour's 14-passenger van. During the ride, guests will enjoy a selection of songs culled from The Big Lebowski soundtrack — everything except The Eagles, of course.
Guests will vie for prizes in a Big Lebowski trivia contest guaranteed to test the knowledge of even the biggest fan before moving on to Storm Brewing to take part in a costume contest. The tour will end at Grandview Lanes Bowling Centre, where participants will forgo Walter Sobchak's rule of never rolling when 'shomer Shabbos' and will avoid tossing 'Gutterballs'.
Prizes will be awarded to the 'Little Lebowski Urban Achiever' with the best costume — whether it's Maude Lebowski, Karl Hungus or Knox Harrington the video artist — while the winner of the trivia contest and undisputed champion of all things Lebowski will receive a custom Big Lebowski growler designed by Sigil & Growler.
"Whether you go by 'His Dudeness', 'Duder' or 'El Duderino' — 'if you're not into the whole brevity thing' — this tour will put both your Big Lebowski knowledge and bowling skills to the test," says Vancouver Brewery Tours founder Ryan Mackey, with a wink. "As an ardent Lebowski fan, I'm excited to offer a tour that not only highlights some of our amazing local craft breweries, but also pays tribute to a film loved by so many, 'but that's just, like, our opinion, man'."
Tickets: A limited number of seats to the Big Lebowski Brewery and Bowling Tour are available for $85 plus tax per person. All beer and bowling is included in the cost of the tour and every guest will receive a Vancouver Brewery Tours beer glass. Seats may be booked online, by phone (604) 318-2280 or by e-mail to info(at)vancouverbrewerytours.com.
Follow Vancouver Brewery Tours on Facebook and Twitter for more information.