Thank you for voting Miss604 the #1 Best Local Blog and #1 Best Twitter Feed in the Westender's Best of the City! The 19th annual readers' choice poll has asked Vancouverites to name their favourite neighbourhood, tourist attraction, brow bar, brewery, nail salon, sports team, and more.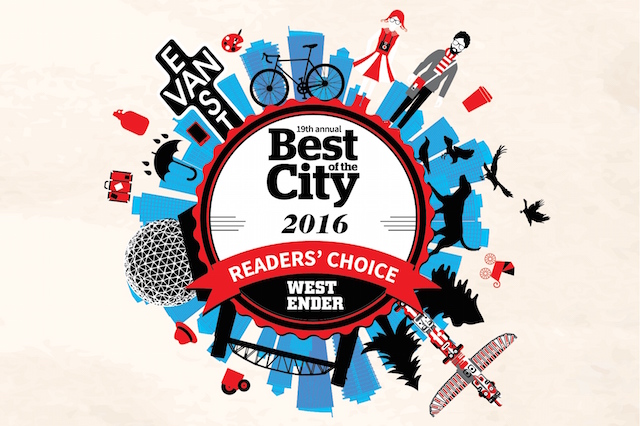 Best of the City 2016
Here are just a few of the other Best of the City winners this year:
BEST NEIGHBOURHOOD
1. West End
2. Kitsilano
3. Mount Pleasant

BEST PARK
1. Stanley Park
2. Queen Elizabeth Park
3. Dude Chilling (Guelph) Park

BEST PLACE TO GO FOR A HIKE
1. Grouse Grind
2. Lynn Canyon
3. Cypress Mountain

BEST OUTDOOR FESTIVAL
1. Vancouver Folk Music Festival
2. Jazz Festival free concerts
3. Vancouver Pride parade

BEST LOCAL BREWERY
T-1. Parallel 49 Brewing
T-1. Brassneck Brewery
2. 33 Acres Brewing Company
3. Granville Island Brewery

BEST STALL @ GRANVILLE ISLAND MARKET
1. Oyama Sausage Co.
2. The Stock Market
3. Lee's Donuts

BEST COMEDY CLUB
1. Yuk Yuk's Comedy Club
2. The Comedy Mix
3. Vancouver TheatreSports League

BEST ART GALLERY
1. Vancouver Art Gallery
2. Hot Art Wet City
3. Ayden Gallery
For the full list, check out the Westender online and in newsstands around Vancouver this week.