We all love Stanley Park: The Seawall, the trails, the history, Bright Nights and Halloween Ghost Trains, and of course the nature that's right on Downtown Vancouver's doorstep. For just $20 a year you can become a member of the Stanley Park Ecology Society ("SPES") and contribute to the conservation of our city's crown jewel.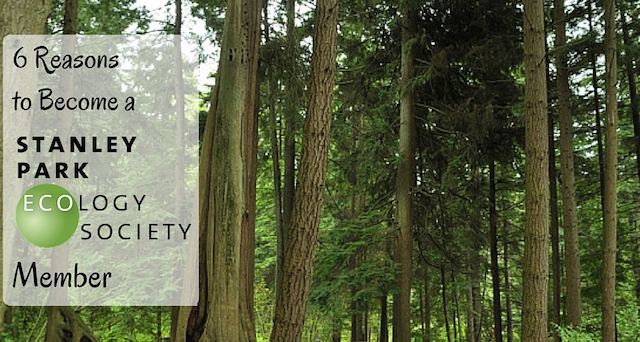 6. Last year, through member support, SPES was able to engage over 5,135 elementary students in nature programs; conduct 78 wildlife habitat surveys; and remove over 361 cubic meters (220 wheelbarrows) of invasive species from the park. Your membership contributes to these programs!
5. Your membership comes with a card, good for a complimentary Discovery Walk in the Park, and you'll receive discounts on Discovery Walks, programs, and special events throughout the year.
4. Members get free preview nights for Halloween Ghost Train, Bright Nights Christmas Train, and Theatre Under the Stars in Stanley Park.
3. Card-carrying SPES members can also enjoy 20% off food at the Prospect Point Cafe and Stanley's Bar and Grill.
2. Individual members get 20% off to the Vancouver Aquarium for individual membership, and a SPES Family Membership holders get 20% admission for 6 family members (2 adults and 4 children under 19).
1. You'll be supporting an independent non-profit charity that, every year, connects thousands of people with nature through school and public programs while their conservation team engages community volunteers in habitat restoration and wildlife monitoring. SPES advises the Vancouver Park Board and provides baseline information on conservation issues within the Park, including ecosystem integrity, Environmentally Sensitive Areas and Species at Risk.
Individual Membership is $20 for the year, Family Membership is $40, and youth/seniors/volunteer membership is $15. Follow the Stanley Park Ecology Society on Facebook and Twitter for more information.
Miss604 has been a proud blogging partner of SPES since 2013