Not a day goes by that I don't see an Emerson or Thoreau quote on Instagram. "Do not go where the path may lead, go instead where there is no path and leave a trail."; "Live in the sunshine, swim the sea, drink the wild air."; and one of my favourites: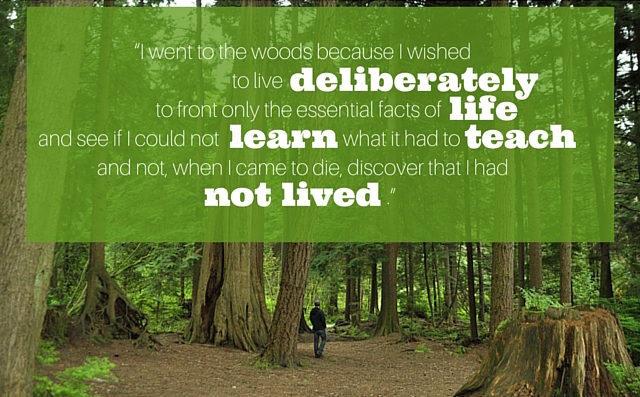 Concord, Massachusetts is home to one of the largest collections of Americana in the country, along with artifacts from distinguished writers and thinkers during the American literary renaissance. Emerson, Thoreau, Hawthorne, Alcott, all called Concord home.
For this reason, John and I planned a day trip to Concord from Boston when we were visiting the East Coast last spring. He's a fan of American Revolutionary history and I'm a fan of American literature and the Transcendentalist movement of the mid-19th century — and it was a nice break from all the craft beer and baseball.
This New England town has so much history, and we barely scratched the surface, but here's what we were able to do in one afternoon:
Getting to Concord from Boston
We were staying in Downtown Boston, right near the Boston Common. We took the Red Line T from Park Street Station to Porter Square Station (15 minutes, using our $16 7-day Charlie Tickets). At Porter, we upgraded our transit ticket and hopped on the purple Fitchburg commuter rail line, getting off at Concord (35 minutes).
Concord Museum
From the train station we walked for 15 minutes to get to the Concord Museum, passing Emerson Playground, Thoreau Court, and Walden Street. Entry to the museum is $15 for adults and it includes admission to their six-gallery exhibition and their seasonal exhibits upstairs (The Art of Baseball was on when we visited).
Founded by English settlers in 1635, Concord was the first inland town in Massachusetts, an advanced outpost of Puritan civilization in an area occupied by Native Americans for centuries. Over a century later, as the site of the battle of April 19, 1775 between Minutemen and Redcoats at the North Bridge, Concord was the birthplace of the Revolutionary War. In the mid-nineteenth century, the community became the center of an intellectual revolution that remade American literature and thought. Concord was the site of Henry D. Thoreau's experiment in independent living at Walden Pond and the base from which Ralph Waldo Emerson preached his philosophy of self-reliance.
The museum contains national treasures like the famous lantern hung in the steeple on the night of Paul Revere's ride in 1775, the contents of Henry David Thoreau's house at Walden Pond, including the desk on which he wrote "Civil Disobedience" and Walden, and Ralph Waldo Emerson's study, where he wrote his influential essays and met with other distinguished writers and thinkers during the American literary renaissance.
Alcott House
From the Concord Museum you can walk over to Louisa May Alcott's Orchard House, home of "Little Women", which is accessible only by a daily guided tour. It is located just half a mile from the museum so it's easy to visit both in the same day.
Emerson House
Ralph Waldo Emerson House is across the street from the museum (300 feet away). In this home, Emerson raised his family and composed his most important written works, including the final draft of his groundbreaking essay Nature in 1836 and Self Reliance in 1841.
Sleepy Hollow Cemetery
After stopping at the Main Street Market & Cafe in the centre of Concord for some lemonade, we walked up to the Sleepy Hollow Cemetery to pay our respects to some great American authors.
The cemetery is a 15 minute walk from the Concord Museum, and about 8 minutes from the market. Walking past houses, each with a plaque out front to tell you just how much history was contained within, we headed uphill to the gates of Sleepy Hollow. This is a pilgrimage that many people around the world have made before. A sign off the parking lot directs visitors to points of interest, including Authors' Ridge, where we were headed.
Surrounded by trees, on a ridge above a ravine drop-off, we walked up a set of stone steps and found the final resting place of Louisa May Alcott's family, the Thoreau family, Nathaniel and Sophia Hawthorne, and more. Offerings of pencils and pens were left at the headstones of Louisa, Nathaniel, as well as at the base of a small stone, no taller than a book cover, that simply said: "Henry".
Just below the ridge was a rough marble boulder, as tall as me, featuring Ralph Waldo Emerson's gravestone. It was adorned with coins from others who had visited before us.
Old North Bridge
Departing the cemetery, we walked for 20 minutes over to Minute Man National Park.
We passed the Concord Battleground, the Old Manse, and went right up to the Old North Bridge where, on April 19, 1775, the American Revolution began. It is where the first shots were fired between the British red coats and the colonial militia (Minute Men) and where Emerson coined the term: "The Shot Heard Round the World."
Next time we visit:
Getting Around
We loved the train adventure, and our transit cost was $11.15 each for the day, but next time we'll get a ZipCar or rent a car for the day so that we can get to a few more places in Concord that we couldn't reach on foot in the amount of time we had. There are bike tours available in Concord but from what I have found online, they no longer offer rentals with the tour packages, which would otherwise have been perfect for us.
Walden Pond
We missed the Emerson-Thoreau Amble, which takes you from from Heywood Meadow on Lexington Road to Walden Pond, basically between Emerson's house and Thoreau's cabin. Cutting through woods, wetlands, and fields, it opened in 2013 and I just didn't know it was there until we got home. We should have walked this path between the Concord Museum and Walden Pond, as I previously thought the only way to get there was via the Turnpike, but of course there would be a walking path here. It's 1.7 miles long (2.7km).
Other activities John and I got up to in Boston were touring the Harpoon Brewery, sipping morning coffees while walking around the Common, drinks in Harvard Square, eating cannoli in the North End, and taking in a Red Sox game.