by

Disclosure: Sponsored Post

— This post is sponsored by Travel Alberta. Views and opinions are my own. Please review the Policy & Disclosure section for further information.
At 5.3 million square feet, and with approximately 30.8 million visitors each year, West Edmonton Mall has been Alberta's top tourist attraction for the past three decades. However, as John and I discovered on our recent tour of wild rose country, there's much more to Alberta's capital city than its epic shopping mecca.
Where to Stay in Edmonton
We traded the towering mountains of Jasper for the edifices in Edmonton's city centre. Rolling in off the highway, we made our way to the stylish Matrix Hotel (1). Our guest room was well-appointed, and we were pleasantly surprised to find that they offered complimentary parking, complimentary Wi-Fi, and a complimentary breakfast buffet in the morning.
This boutique hotel offers just as much as the big chains do for business travellers — they have wine tastings in the evening, and pets are welcome (in the rooms, maybe not for the wine tasting).
Plotting our route to dinner along Edmonton's 124 Street (what we discovered is like West 4th in Vancouver, with a mix of unique shops, galleries, boutiques and bistros) we decided to walk to our destination.
We were on 106 Street so we figured 18 blocks would be no problem. It turns out Edmonton's blocks, especially by the river where we were, are significantly larger and more spacious than Vancouver's. Nevertheless, we had a lovely stroll along the River Valley Walk (2), and through Victoria Park. This was just part of Edmonton's 160 kilometres of maintained multi-use trails.
Where to Eat in Edmonton
Arriving at the 124 Street we met up with our host from Edmonton Tourism at North 53 (3). Locally-sourced ingredients are put in the spotlight, as are the talented mixologists behind the bar that use creativity to craft unique and classic cocktails.
John ordered a "Smoke & Oak Fashioned" with Oaken Gin, Smoked Maple Syrup, Aromatic and Orange Bitters, Orange Oils, Spruce Smoke. Yes, smoke. While I have an aversion to gin, I had to have a sample and savour this rustic sip.
I went with "Trouble in Paradise" with Bulleit Bourbon, Cynar, Averna, Fernet Branca, Pineapple Syrup. From pine to pineapple, the drinks were savoury, sweet, spicy, and "relentlessly Albertan".
Our next stop was dinner at Canteen (4), just up 124 Street, where I had the best and most robust kale salad of my life. It came with crispy quinoa, carrot, walnut dukka, parmesan, roast garlic dressing, and a kale puree. I barely had room left for my main, Scallop and Pork Belly, with buttered corn, pumpkin puree, organic farro, apple, braise celery, truffle pepper gastrique.
I switched to an Old Fashioned and we sat in the front window corner of the bistro as the city went dark and the candle on our table flickered each time a local entered this neighbourhood favourite for a hearty meal.
The next morning we set out for Elk Island National Park, about 45 minute east of the city. We wandered around just a portion of this 194 square kilometre park, learning about bison with a Parks Canada guide. By the time our tour was over, we were chilled to the core, returning to the city with our seat warmers on full blast, navigating our way over to the Mercer Warehouse (5).
Originally built in 1911 by scotch and cigar merchant John B. Mercer, this warehouse has been converted into retail and restaurant space including Roast Coffee House, Mercer Tavern, Fabloomosity, D'lusso Event Furnishings, Brain Works, and Startup Edmonton. It's also home to Rostizado, "nuevo-Latino" cooking with rich, slow-roasted dishes found across all 32 states of Mexico.
After being outside in the cold at Elk Island, we needed some heat. We ordered the spicy, tangy, soup of the day and Rosti Puerco, shaved rotisserie pork served with chimichurri, fresh onions, cilantro and queso Oaxaca. It was so good we ordered a second round while our server walked over to the lounge area, between two leather couches decorated with Mexican blanket-style pillows, and put on a new record.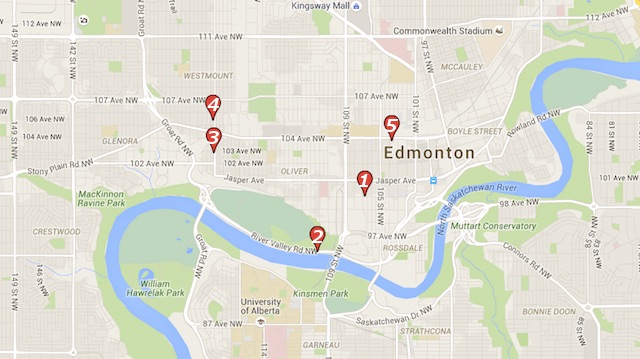 Clever cocktails, neighbourhood bistros serving up seasonal delicacies, and exotic flavours filled with hearty home-cooked goodness. This was a side of Edmonton that we didn't know existed but we're sure glad we found. If you're looking to explore this Edmonton (or even the mall, really, you can't beat the 800 shops plus roller coaster and ice rink) be sure to get in touch with Edmonton Tourism on Twitter and Facebook.