After crossing the country from Montreal and visiting 150 communities, the CP Holiday Train will finish its journey in Maple Ridge and Pitt Meadows (December 18th), ending in Port Coquitlam and Port Moody (December 19th). View the impressive train-long light displays and enjoy a free concert at each stop.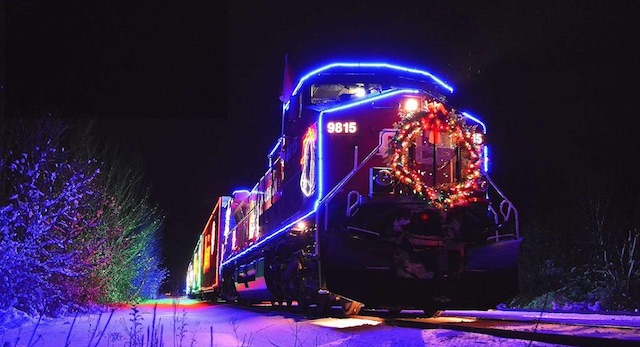 CP Holiday Train Comes to the Tri-Cities
This event has the beautiful light display on the train, a free concert, and it serves as a donation drive local causes in each community it visits.
Local Schedule
The musical guests for this final stretch are Jim Cuddy, Devin Cuddy and Kelly Prescott.
City
Stop Location
Date
Arrival
Event Time
Haney-Maple Ridge
Across from Billy Miner Pub
Dec 18
7:30pm
7:45pm-8:15pm
Pitt Meadows
Corner of Harris Rd & Advent Rd
at the railway crossing
Dec 18
8:45pm
9:00pm-9:30pm
​Port Moody
300 Ioco Rd behind
Arena and Rec Centre
Dec 19
4:50pm
5:00pm-5:30pm
Port Coquitlam
Poco WCE Station
2125 Kingsway Ave​​
Dec 19
6:15pm
6:30pm-7:00pm
When the train arrives it will pull to a safe stop in front of the crowd in attendance. The stage door lowers and the band opens with its first song. After that, a brief presentation takes place with local food bank officials and other dignitaries. Once complete, the band resumes performing a mix of traditional and modern holiday-themed songs. The whole event lasts about 30 minutes, and once the band plays its farewell show, the boxcar door closes, and the train slips off into the night on its way to the next stop.
Follow the CP Holiday Train on Facebook, Instagram, and Twitter to see its full schedule as the cross-country journey comes to an end out west.
» Read about more free events this Christmas.