The grapes are off the vines, frost is forming in the fields, and the bounty of the season is being poured into your glass while you enjoy the warmth of a fire and a view of the South Okanagan. Winter in wine country sounds pretty dreamy and it's an experience you can actually book, sip, and savour at Watermark Beach Resort this month.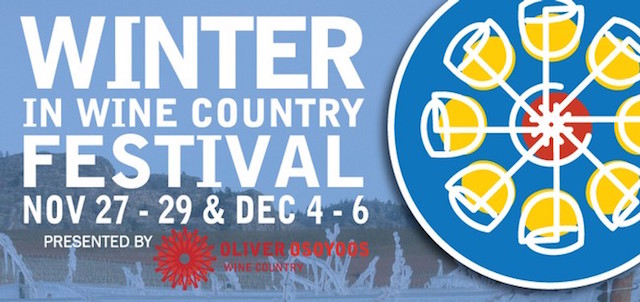 Winter in Wine Country
The Winter in Wine Country Festival is happening November 27th to 29th and December 4th to 6th, 2015 in Oliver and Osoyoos. This family friendly festival features fireworks, fine dining, a parade and an exclusive late season tasting opportunity at 30 Oliver Osoyoos Winery Association member wineries.
Pick November or December, or make the trip for both fun-filled weekends. The festival begins Friday, November 27th and Saturday, November 28th with the Oliver Community Light Up & Fireworks with pictures with Santa, entertainment, a bonfire, and fireworks. For the big kids, Hester Creek Estate Winery will host the very popular Rosé Revolution with the participation of 18 local wineries that produce rosé wines along with food stations, live music, and the people's choice award for Best Rosé.
I had the opportunity to sample the defending champs' rosé at River Stone during the harvest and I have to say it will be tough to beat! However, Christmas is the perfect time for sipping rosé — it's not just for hot and sunny summer patios as it pairs so well with holiday fare. Book your tickets for this event or browse you local liquor store for some Oliver Osoyoos rosé this season.
The first weekend ends with a Winter Wonderland Brunch at Watermark Beach Resort, starting at 9:00am, where Chef Adair Scott will use the best of the region to produce a farm-to-table prix-fixe breakfast. Watermark will also host a screening of Ventures in Wine Country that night, a series that goes behind the scenes of the wine industry, following three Okanagan winemakers.
» Tickets for each event are available online «
The second weekend of the Winter in Wine Country Festival will shift over to Osoyoos with their own Community Light Up & Parade. There will be a charity craft sale, Toys for Tots breakfast, parade, and a festival of tress (which runs until January) up at NK'MIP Resort.
The grand finale, the pièce de résistance, is the open house that will include 30 wineries who will open their tasting room doors as various times throughout both weekends. Winery tours will be offered by Top Cat Tours, starting from $35 per person, including transportation and tasting.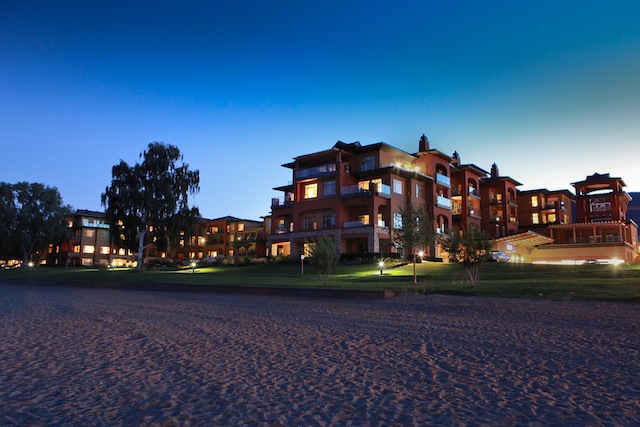 Watermark Beach Resort, located along 1,000 of lakefront in the heart of Downtown Osoyoos, is your perfect home base for the event. John and I stayed there this summer in a lovely suite (with Wi-Fi, full kitchen, 2 bedrooms, and a lake view) and this fall I stayed in one of their beachfront townhomes, which is bigger than my house! It has all the amenities you can think of including perks like a private balcony, pet-friendly rooms, wine fridge, and the proximity to delicious farm-to-table meals in the restaurant. Call 1 (888) 755-3480 for reservation information.
Uncork the Sun in Oliver and Osoyoos at any time of year! Follow the winery association on Twitter and Facebook for the latest news.