Squash, turnips, apples, beets, oh my! Shop for the very best of the season at your local winter farmers market, now with two locations in Vancouver.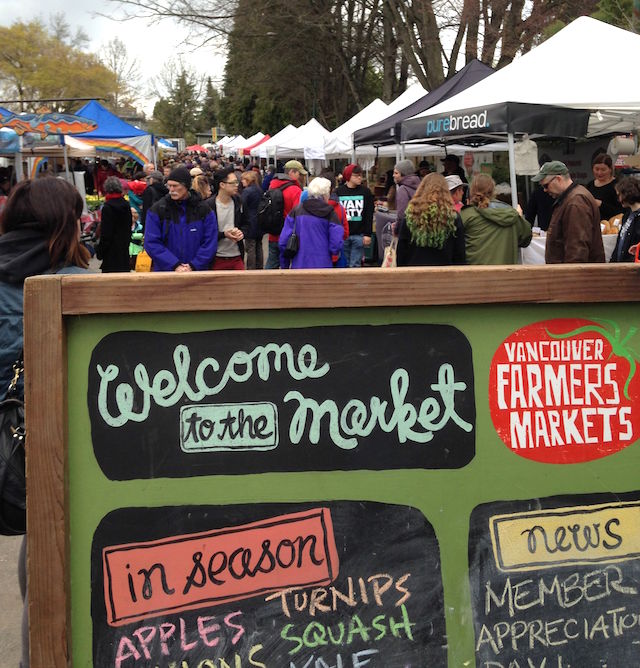 Winter Farmers Markets in Vancouver
Where: Hastings Park Winter Farmers Market (Hastings Skatepark, Renfrew St)
When: Sundays (November 8th to May 1st) from 10:00am to 2:00pm
Details: Located between the Forum and the Agrodome at the PNE fairgrounds, Hastings Park Winter Market will feature 50+ vendors each week bringing Vancouverites a great selection of locally grown produce, meat, seafood and dairy, craft beer, wine and spirits, artisan prepared food and baked goods, handmade craft and food trucks. Closed for the holidays on December 27th.
Where: Nat Bailey Winter Farmers Market (30th Ave and Ontario St)
When: Saturdays (November 7th to April 23rd) from 10:00am to 2:00pm
Details: Voted the Best Place to be on a Rainy Saturday! Each week you can look forward to finding locally grown vegetables and fruit, meat and seafood from local ranchers and fishermen, artisan cheese and bread, herbs and seasonal nursery items, baked goods, prepared foods and artisanal craft. Closed for the holidays on December 26th.
BONUS
Where: Holiday Market at the Croatian Cultural Centre (3250 Commercial Drive)
When: One day only! Saturday, December 12th, 2015 from 10:00am to 4:00pm
Details: The annual showcase of seasonal food and fine craft takes place once a year in December at the Croatian Cultural Centre. Over 60 vendors who regularly sell at our summer markets bring out their holiday best at our only indoor venue. Pickup gifts for everyone on your list including VFM branded merchandise, market money and gift certificates.
Founded in 1995, Vancouver Farmers Markets has grown to become one of Canada's leading farmers markets, with nine weekly markets, 425,000 shoppers per year, and annual sales of $8.17 million. For more information follow Vancouver Farmers Markets on Facebook and Twitter.