Since joining Major League Soccer ("MLS") in 2011, Vancouver Whitecaps FC have made the playoffs three times. They were the first Canadian team to ever qualify for the MLS Cup Playoffs and they're also the first team to do it twice. Another milestone will be reached this weekend as we host Vancouver's first home match in their MLS Cup playoff history.
Whitecaps FC Playoff Match in Vancouver
Vancouver Whitecaps FC vs Portland Timbers FC
Where: BC Place Stadium in Vancouver
When: Sunday, November 8, 2015 kickoff at 7:00pm
Tickets: Available online starting at $40.
Back in March I wrote 5 Reasons to Attend a Whitecaps Match in 2015 and "an excellent chance at making the playoffs" should have been the 6th reason. Fan experience of course was my #1 reason and it can't be beat.
Last week club president Bob Lenarduzzi announced that they'll open up the entire lower bowl of BC Place for this special match, bumping attendance to a potential 27,500. Since this may be the first Whitecaps match for many, I figured a primer would help:
Pick Up Some Gear
Stop by the Whitecaps FC store in the Landing at 375 Water Street in Gastown or at Terry Fox Plaza outside BC Place. You can also shop online.

Arrive Early for Specials
BC Place and Whitecaps FC usually announce early bird specials on drinks (wine, beer) and food before the match. Follow them both on Twitter (@BCPlace & @WhitecapsFC) for the specifics on Sunday.
White is the Colour
A tradition since 1974, a video will play on the big screen with lyrics before kickoff. Clap and sing along while wearing your white for the Whitecaps. The club is also encouraging all attendees on Sunday to wear white to the match.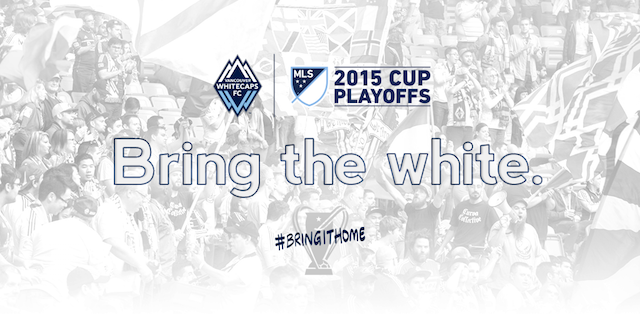 Starting 11
When the starting 11 are announced in the stadium you will hear the first name called then the crowd usually responds by shouting the last name of the player. Join thousands of fans in announcing our team before things get underway on the pitch.
Support
There are three main supporter groups for Whitecaps FC: Curva Collective, Raincity Brigade, Southsiders. John and I are members of the Southsiders and we all sit between sections 249 and 254. Raincity Brigade is to our left, followed by Curva Collective on the curva.
There are several songs and chants that only members might know but please join in when you hear our familiar Whitecaps chant (followed by clapping) or a back and forth "WHITE!" / "CAPS!" chant between our groups. The more voices we have to drown out the hundreds of Portland Timbers supporters the better!
Vancouver Whitecaps FC announced on Tuesday that fewer than 1,500 tickets remain for Sunday's historic first ever MLS home playoff match at BC Place. Premium suites also remain available and can be purchased for your group by contacting Tom Tompkins at [email protected] or 604-484-7874. UPDATE: The match is sold out!
Should Whitecaps FC win on Sunday, they will advance to the Western Conference Final to take on the winner of the other Conference Semifinal between FC Dallas and Seattle Sounders FC.