The longest running blanket drive in the region, the Realtors Care Blanket Drive, returns November 16th to November 23rd, 2015. Since 1994, this campaign has helped more than 250,000 people in need through donations of warm coats, clothing, blankets, and more.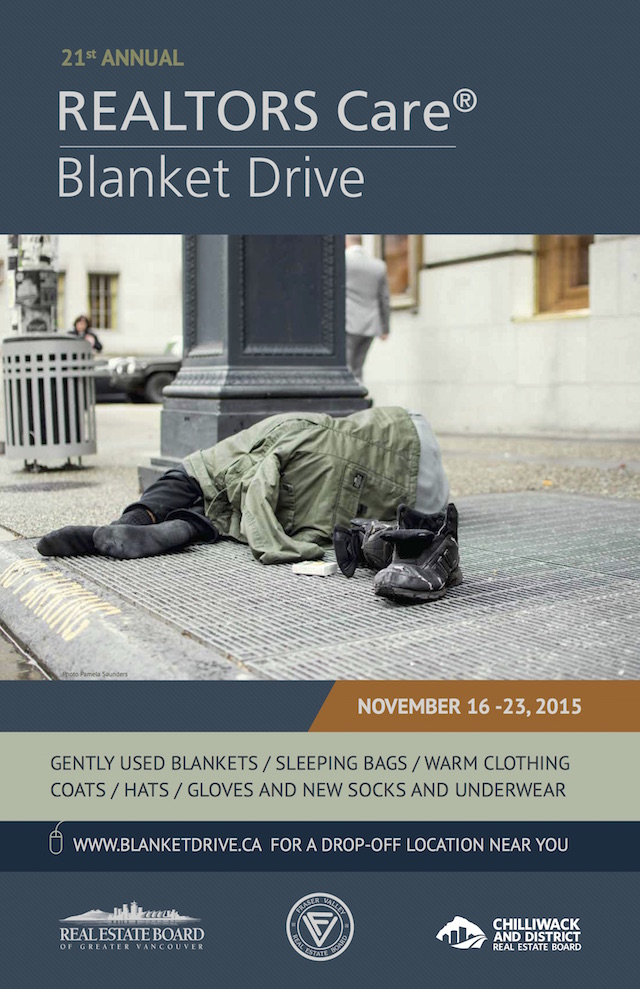 REALTORS Care Blanket Drive
Where to Donate Warm Clothing and Blankets This Season
Real estate offices from Hope to Squamish will accept the Blanket Drive donations. A full list is available online here. There are over 30 locations in Vancouver alone, and many others between Abbotsford and White Rock.
Donations can include:
New and gently used blankets and sleeping bags
Coats, warm clothing
Hats, gloves, scarves
New socks and underwear
Vancouver East

KE Worldwide Real Estate Serv.
858 Kingsway
604-708-1982
Vancouver
RE/MAX City Realty
2808 Kingsway
604-439-2266
Vancouver
Royal Pacific Realty
3107 Kingsway
604-439-0068
Vancouver
RE/MAX Metro Realty
2899 Commercial Drive
604-612-1000
Vancouver
Sutton Group-Westcoast Realty
205-2607 E 49th Avenue
604-257-8888
Vancouver

Vancouver West

Century 21 In Town Realty
421 Pacific Street
604-685-5951
Vancouver
Coldwell Banker Premier Realty
6272 East Boulevard
604-266-1364
Vancouver
Dexter Associates Realty
1399 Homer Street
604-689-8226
Vancouver
Dexter Associates Realty
2094 W 43rd Avenue
604-263-1144
Vancouver
Faith Wilson Group
2512 Yukon Street
604-224-5277
Vancouver
HomeLand Realty
200–8168 Granville Street
604-263-7855
Vancouver
Macdonald Realty
2105 W 38th Avenue
604-263-1911
Vancouver
Oakwyn Realty
3195 Oak Street
604-620-6788
Vancouver
Park Georgia Realty Ltd.
109-5701 Granville Street
604-261-7275
Vancouver
RE/MAX Crest Realty (Westside)
2-1012 Beach Avenue
604-684-6155
Vancouver
RE/MAX Crest Realty (Westside)
3215 Macdonald Street
604-732-1336
Vancouver
RE/MAX Crest Realty (Westside)
1428 W 7th Avenue
604-602-1111
Vancouver
RE/MAX Real Estate Services
410-650 W 41st Avenue
604-263-2823
Vancouver
RE/MAX Select Properties
5487 West Boulevard
604-737-8865
Vancouver
Royal LePage Westside
5970 East Boulevard
604-261-9311
Vancouver
Royal Pacific Realty Corp.
550-650 W 41st Avenue
604-266-8989
Vancouver
Shon Group Realty
1118-925 W Georgia Street
604-669-3312
Vancouver
Strategic Real Estate Ltd.
402-1001 W Broadway
604-683-5669
Vancouver
Sutton Group-Langara Realty
7547 Cambie Street
604-322-3000
Vancouver
Sutton Group-West Coast Rlty
301-1508 W Broadway
604-714-1700
Vancouver
Sutton Group-West Coast Rlty
200-5511 W Boulevard
604-267-3800
Vancouver
TRG Realty
101-1965 W 4th Avenue
604-629-6100
Vancouver
Westside Tom Gradecak Realty
4381 West 10th Avenue
604-222-3750
Vancouver
William Parton Agencies
2356 West 4th Avenue
604-731-5208
Vancouver
All donations collected within a community go to charities in that community. For more information follow the Realtors Care Blanket Drive on Facebook.