The City of Surrey's annual Tree Lighting Festival is coming up on Saturday, November 21st featuring free family fun and entertainment all day long at the Central City and City Hall plazas.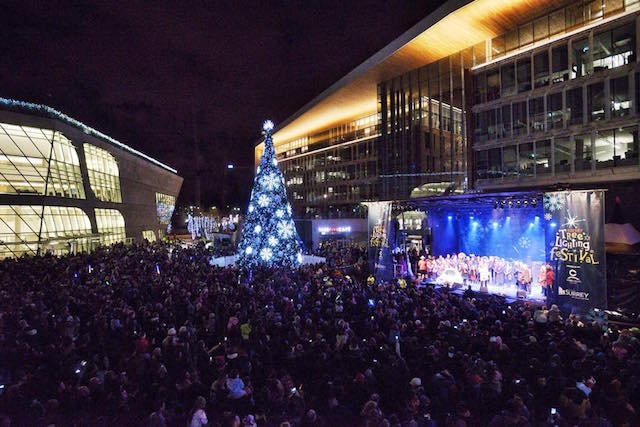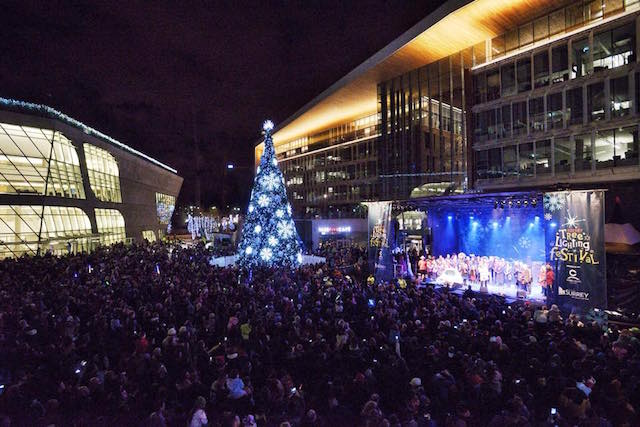 Watch and enjoy special guests and performers such as Top Line Vocal Collective, the Kwantlen Glee Club, Eli Williams & The Memphis Sound, Queen Elsa & Anna, and more including Andrew Allen who will be playing multiple stages as two different acts.
BC's Andrew Allen has landed three Top 10 hits in Canada: 2009′s "I Wanna Be Your Christmas", 2011's "I Want You" and his biggest single released in 2010 "Loving You Tonight". The latter was on the charts for more than 22 weeks and broke the US Top 30 while gaining over 4 million views on YouTube. He'll be playing the City Hall Plaza Main Stage (at 3:00pm) as well as inside City Hall later in the day, as Hudson Station (at 5:00pm) at the Surrey Tree Lighting Festival.
"It's a really fun duo," Andrew told me over the phone earlier this week. He and Cole Friesen, with whom he has been touring and performing with for years, formed Hudson Station last year in order to write and play songs with a heavier folk influence than you'd hear simply from Andrew Allen.
"Cole plays the guitar, I play the guitar, we both sing, and I play kick drum with my foot, he plays tambourine with his foot and they're just really fun folk songs that I think people will really relate to."
It's a busy time of year for Andrew Allen (as himself and Hudson Station) as his Christmas single from 2009 has had a lasting impact. He's preparing for his 4th annual "All Hearts Come Home" concert in Vernon (December 12th) as well as a Christmas showcase in Vancouver (December 4th), and of course you can get a holiday preview performance at the Surrey Tree Lighting Festival on November 21st.
"I like all the stuff around Christmas," Andrew admits, however he can do without the hustle and bustle. It's the sleigh rides, theatre productions, markets, that gets him in the holiday spirit. "The getting together, the parties, hanging out with people, that's my favourite."
Get together with your family and friends at the Tree Lighting Festival and enjoy the Coast Capital Savings Photo Booth, Winterland, Storyville, Toddler Town, arts & crafts, trolley rides, miniature train rides, a craft market, road hockey, ice carving, a ferris wheel, various other family activities and great FREE performances.
What: Surrey Tree Lighting Festival
Where: The Plaza at New City Hall and Atrium (13450 104th Ave, Surrey)
When: Saturday, November 21, 2015 from 12:00pm to 7:00pm. The tree will be lit at 6:30pm. The stags at Central City will be lit at 4:15pm.
Rain or shine! There will be a lot to do both indoors and outside. View the full stage schedule online and follow Surrey Events on Twitter and Facebook for more information.
Miss604 is a proud media partner of the Surrey Tree Lighting Festival