I have enjoyed spa experiences around the world but rarely do I get to savour one close to home. Fortunately, I recently found Spa Utopia at the Pan Pacific Hotel, tucked away in the heart of the city.
Its entrance area is a full size boutique with an extensive collection of lotions, soaps, and creams, and once you enter the glass doors to the lounge, change rooms, and treatment rooms, you are transported to another place entirely. Design elements feature stone columns, exposed brick, and wrought iron chandeliers. In the main lounge these are all contrasted by soft, fluffy pillows, robes, sweet teas, calming scents, and ambient music. You feel as though you've found a secret city within the city filled with comfort.
I love getting massages, facials, manicures and pedicures but today it was really nice to enjoy a full spa experience with the Earth Mud Wrap. It's like a spa scene in a movie where the main character gets pampered with a mud mask, scalp massage, and even cooling cucumbers on their eyes – which they sit up and take a bite out of when their BFF says something shocking to them. Crunch!
There were no cucumbers but I did get a calming treatment that made my body feel completely refreshed. I was scrubbed down and exfoliated, painted in mud, and wrapped up in a soothing cocoon of warmth. My body tingled as the clay cooled on my skin under layers and layers of sheets, blankets, and a dreamy duvet. While snuggled up I had a moisturizing treatment on my face and a scalp massage before washing off and having another full body lotion application.
After my treatment I practically sleep-walked to the lounge in my robe to bounce back from my contented cocoon-induced fog. I was handed a glass of rooibos tea with apple juice and lemon which I nursed for an unknown amount of time. A bridal party clinked glasses of bubbly, a couple cuddled up on the couch, and I had one of those "do I really have to leave and get back to work?" moments.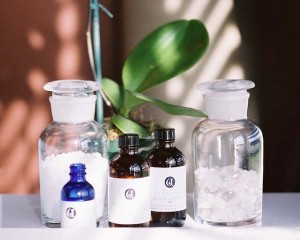 Whether you're taking a weekend off or even popping by on your lunch hour, Spa Utopia provides lockers, robes, "spa panties", sandals, beauty care products, hair dryers, and anything else you can think of that would help you get ready before leaving the locker room.
There is even offer a complimentary makeup touch-up service. If you would like full makeup or styling, they can do that too with hairstylists and professionals at the ready.
Give the Gift of Spa Utopia This Season
This season Spa Utopia is offering gift cards that are good for their shops (featuring many green and Canadian-made products), along with spa treatments and services. Tuck one into the stocking of a loved one or wrap it up as a gift of wellness, healing, and soothing this Christmas.
My gift to you is the chance to win your own Earth Mud Wrap experience.
70 Minutes: This mineral packed body mask offers therapeutic benefits for muscular fatigue, joint discomfort and minor skin irritations. Re-mineralizing the skin helps sustain hydration levels while skin detoxification brings a sense of balanced energy and deep relaxation. Includes a facial cleanse and treatment mask.
Here's how you can enter to win the Earth Mud Wrap — keep it for yourself to melt away holiday stress or gift it to a deserving friend or family member:
Leave a comment on this post (1 entry)
Post the following on Twitter (1 entry)
RT to enter to win a @SpaUtopia treatment from @Miss604 http://ow.ly/Vb7NA
Spa Utopia has four locations across Metro Vancouver including Langley, North Vancouver, the Pan Pacific in Downtown Vancouver and Body & Salt at Guildford Mall in Surrey. Follow on Facebook and Twitter for more information.
I will draw one winner at random from all entries at 12:00pm on Wednesday, December 2, 2015. The winner's wrap is available at the Langley, North Vancouver, or Downtown Vancouver locations.
Update The winner is @ChelseaMinhas!