It's tough to save money during the holidays while going to gatherings of friends and family, hosting dinners, and exchanging gifts. However, I know of several activities that will get you in the holiday spirit without sliding you into debt. Here are my top picks for FREE Christmas activities in Metro Vancouver over the next month: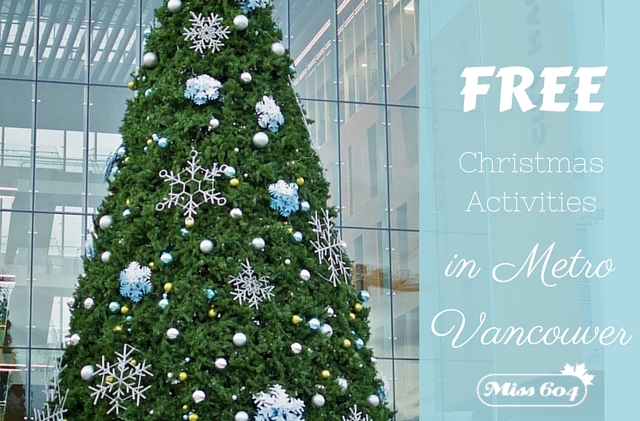 Free Christmas Activities in Metro Vancouver
14. Langley Rivermen BCHL hockey presents RIVMAS, free admission to hockey games and $5 vouchers handed out to fans. December 18-20, 2015.
13. Burnaby Lake Park Holiday Open House
December 6, 2015. Guided walks, history, crafts.
12. Festival of Trees at Four Seasons Hotel Vancouver & CF Pacific Centre
Until January 5, 2016. The 29th annual Festival of Trees are on display supporting BC Children's Hospital.
11. New Westminster Santa Claus Parade
December 5, 2015 along Columbia St
Activities at the Anvil Centre, River Market, Fraser River Discovery Centre.
10. Lantern Festival and Parade in Port Coquitlam
December 5, 2015 at Leigh Square Community Arts Village.
9. Rogers Santa Claus Parade Vancouver
December 6, 2015 on Georgia and along Howe
More family fun at the Coast Capital Savings Christmas Square at the Vancouver Art Gallery plaza and the Robson Square ice rink.
8. Big Rigs for Kids Lighted Truck Parade in Surrey
December 6, 2015 at Surrey City Hall Plaza (and University Blvd)
Before the parade there will be live music and face painting at the plaza.
7. Christmas in Steveston Village
Santa arrives off the boat on Steveston Public Wharf December 6, 2015 at 1:00pm. Free Santa hats, a classic Christmas car display, mascots, carolers, Cannery Farmers' Market and more.
6. Burnaby Village Museum Heritage Christmas
Until January 1, 2016. Free gate admission includes light displays, entertainment, crafts, and more. Carousel rides are $2.55.
5. St Paul's Hospital Lights of Hope
On now and throughout December. It's the most impressive light display in Downtown Vancouver, and for a great cause. Stop by and make this part of your holiday activity plans.
4. Christmas at Canada Place
Beginning December 12th, free outdoor displays, lights, the legendary Woodward's Windows, 15-foot snow globe, and more.
3. CP Holiday Train
After crossing the country from Montreal and visiting 150 communities, the CP Holiday Train will finish its journey in Maple Ridge and Pitt Meadows (December 18th), ending in Port Coquitlam and Port Moody (December 19th). View the light displays and enjoy a free concert.
2. Skating at Robson Square Ice Rink
Free when you bring your own skates. Rentals are available for $4.00. Open December 1st until February, 2015 and on Christmas Eve, Christmas Day, Boxing Day, New Year's Eve, and New Year's Day.
1. Lumiere Festival Vancouver
December 11th and 12th, 2015. In addition to dozens of dazzling lighting installations, there will be a free trolley service, free horse-drawn carriages, and free entertainment throughout the West End's commercial streets. Miss604 is the proud Social Media Sponsor of Lumiere Festival Vancouver.
Honourable Mention: Buy One/Get One
When you purchase tickets to the Festival of Lights at VanDusen Garden (open December 1st to 31st) you get free admission to Enchanted Nights at Bloedel (which runs December 4th to January 3rd).
If you have any other events to add, send them in via my contact form and I'll include them (free or not) on the December event list. Thank you!
** Please note that there may be costs associated with extra activities at these events and attractions, such as food/snacks, admission to other attractions or sites, etc. This post covers information available at the time of publishing and any posted signage or fees at these activities should be observed.