The 12th annual Diwali Fest will take place November 3rd to November 15th, bringing together people of all backgrounds to celebrate multiculturalism and inclusiveness. Two main festival sites will host events and two theatrical performances with take place on Vancouver stages.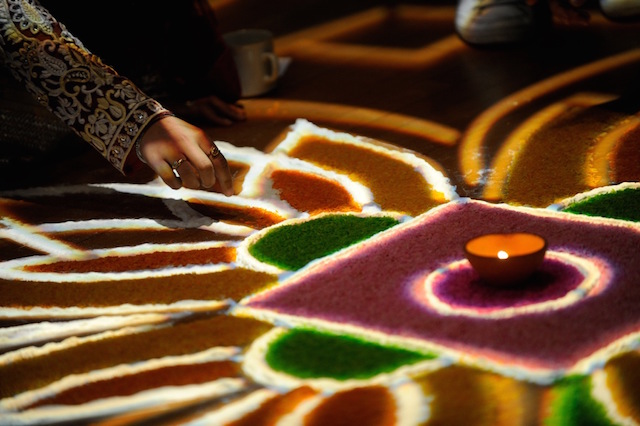 Diwali Downtown Events
Event: Diwali Downtown, Vancouver
When: November 7th, 2015
Where: Roundhouse Community Centre, Vancouver
Diwali Downtown is one of the main events of the festival and a key attraction, drawing thousands of people from all demographics for a South Asian cultural extravaganza. Diwali Downtown is a free event that brings together the best of contemporary and classical Indian culture for the entire family. This year's event will include over fifteen different music and dance performances, an Indian bazaar featuring South Asian crafts and cuisine, and a room-sized rangoli.
Event: Diwali Downtown, Surrey
When: November 14th, 2015
Where: Surrey City Hall, Surrey
Returning by popular demand and at the request of the City of Surrey, Diwali Fest is pleased to once again bring its landmark event, "Diwali Downtown", to the Surrey audience. This is also a free and family-friendly event.
Diwali Workshops
When: Throughout the festival
Where: Various venues in Vancouver
These free workshops feature professional artists and facilitators who lead the group in rangoli design, diya lamp painting, Bollywood dancing, sari wrapping, and mehndi hand painting. This year's festival will also include workshops on storytelling, poetry, yoga, and roundtable discussions on the history of Diwali.
Diwali Stories and Food
Event: Storytelling & Rangoli-Making
When: November 12th, 2015
Where: Richmond Cultural Centre, Richmond
Event: Diwali Cooking Demonstrations
When: November 3rd & November 15th, 2015
Where: Roundhouse Community Centre, Vancouver
Event: Diwali at the Library
When: November 4th, 2015
Where: Vancouver Public Library, Vancouver
Diwali on The Drive
In partnership with one of the leading presenters of Theatre in the City of Vancouver, The Cultch, Diwali Fest will incorporate South Asian-themed Theatre for a two-week run (November 3rd to November 14th) at The York Theatre as well as a dance presentation for a weekend at The Historic Theatre at The Cultch. The two productions are Nirbhaya and Sunya.
Show: Sunya
When November 10th to 14th, 2015 (Opening: November 10th) at 8:00pm
Where: Historic Theatre at The Cultch (1895 Venables Street, Vancouver)
Tickets Available at The Cultch's Box Office, by phone at (604) 251-1363, or online from $20.
Sunya is a celebratory and spiritual journey merging contemporary dance, music of Persian inspiration, and interactive real time video. Guided by the Indo-Armenian dancer and choreographer, Roger Sinha, and Iranian-born gatherer of musical pearls, Kiya Tabassian, four dancers, three musicians, a sound designer, and a video artist break boundaries to create a truly unique artistic experience.
Show: Nirbhaya
When November 3rd to 14th, 2015 (Opening: November 3rd) at 8:00pm, 2:00pm matinée on November 8th
Where: York Theatre (639 Commercial Drive, Vancouver)
Tickets Available at The Cultch's Box Office, by phone at (604) 251-1363, or online from $30.
Nirbhaya is a story based on real life experiences and the violent incident that shocked Delhi and the world. On December 16, 2012, a young woman boarded a bus in Delhi heading for home. What followed changed countless lives forever. Internationally acclaimed playwright and director, Yaël Farber (Mies Julie) has created a searing new work that cracks open the code of silence around women whose lives have been shattered by violence. For ages 16+. Contains adult themes and mature content.
Win Tickets to Diwali Fest Shows
I have a pair of tickets to give away to opening night of Nirbhaya (at the York Theatre) as well as Sunya (at The Cultch). Here's how you can enter to win:
Leave a comment naming a Diwali Fest event or show you'd like to attend (1 entry)
Post the following on Twitter (1 entry)
RT to enter to win tickets to a @DiwaliFest show from @Miss604 http://ow.ly/TVmDX
I will draw two winners (one for each show) at 12:00pm on Monday, November 2, 2015. Follow Diwali Fest Vancouver on Facebook and Twitter for the latest information about the festival.
Update The winner for Nirbhaya is Jennifer and Sunya is Jason!