The City of Vancouver wasn't even 45 years old at the time the Vancouver Bach Choir gave its first concert at the Orpheum Theatre in December of 1930. Outside of the Vancouver Symphony Orchestra (1919) the Vancouver Bach Choir is the oldest performing arts organization in the province, and one of the oldest symphonic choirs in the country. Heading into its 85th season, I spoke with Music Director Leslie Dala to learn more about this Vancouver institution.
Vancouver Bach Choir Celebrates 85 Years
"It's a group that has stood the test of time," Dala told me over the phone on a rainy autumn day. "Over the last 20-30 years there are so many great choirs that have popped up in the city, award-winning choirs, chamber choirs. What makes us a little different is that most of our repertoire is the stuff that we do with the Vancouver Symphony, the really big pieces that you need a larger group to do. That's our niche basically so we're very fortunate with that."
The Vancouver Bach Choir ("VBC") is an amateur organization, meaning that people are not paid but Dala says the singers are of a very high caliber. They're auditioned, in fact he hired three new voices earlier this week, and they join because they love to sing. "A number of people recently retired from the group in the last couple of years, some of whom had over 30 years experience singing with us."
"Basically music is something which completely enriches our lives and the earlier that one has contact with that, exposure to that, a chance to study that, I think that's where it can make an impact." ~ Leslie Dala
In 1984 the Vancouver Bach Choir formed a special children's project, to bring the benefits of singing to young people across the city. Some of the performers today have even grown up through the Vancouver Bach Children's Chorus & Youth Choir, continuing on with the Vancouver Bach Choir. "It really is a family that has grown together."
"It's quite wonderful to see when everyone comes together for our Christmas concert at the Orpheum where we literally have over 400 voices on stage, from as young as 5 years old to the adults. I really cannot think of any other organization in the province that has that kind of richness to it. It's a really wonderful thing."
So what gives VBC its staying power? Dala says it's a formula that includes the changing group year to year, the repertoire, and their outreach in the community. "We're very conscious of the fact that the performing arts audience in general tends to be shrinking, so in the past few years we've tried to get outside of our home at the Orpheum and go out into different communities to just let people know that we are around."
For the special anniversary season the organization is working with some crowd and choir favourites. They'll start off on December 6th with "Christmas with the Bach Choir" with sing-a-long carols, an organ and brass quintet, and familiar, festive tunes. On December 12th they'll perform Handel's Messiah, which Dala says is the piece the group has done more than anything in its history.
"It's a ritualistic concert experience, and some people go to that every year. I think for people who have never been I strongly encourage them to come because it's quite possibly the most performed piece of classical music in existence, certainly for choir and orchestra and it speaks to that, it's quite a magnificent piece. [Messiah] features amazing choruses, and really beautiful arias for the soloists."
This year Simone Osborne, Canadian lyric and operatic soprano who was one of the youngest-ever winners of the Metropolitan Opera National Council Auditions at age 21, will perform with VBC and it will actually be her first Messiah. Another singer who has graced stages around the world, who will also perform their first Messiah with VBC on December 12th, is baritone Daniel Coolidge.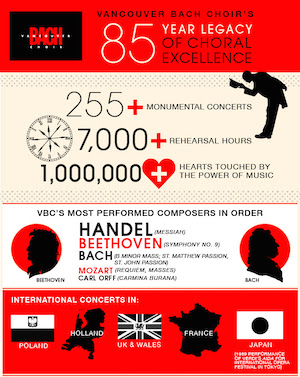 Heading into 2016, VBC will perform Downing's Phantom of the Opera on February 20th. They will show Rupert Julian's dark and haunting 1925 silent film during the concert and sing a live soundtrack written by Toront-based composer Andrew Downing.
Staying true to their name, Bach's St Matthew Passion will close out the anniversary season on March 19th. Dala says that it's such an enormous piece that they'll require a double choir and double orchestra. The Vancouver Symphony Orchestra will be joining them along with a soloist.
"St Matthew Passion is considered to be truly one of the greatest works every written in the classical canon."
This particular piece hasn't been performed in Vancouver for over a decade and it was chosen by the members of the Vancouver Bach Choir during a survey for this season, as opposed to its selection being made by an artistic director or small committee. "I knew I had the backing of the choir and it's a piece that's really important to all of us, it's a monumental piece and a great way to cap off our season. It's very relevant to who we are and what we do."
Tickets and season subscriptions are now available for the Vancouver Bach Choir's 85th anniversary season. Follow along on Twitter and Facebook for more information.