Rejuvenate and invigorate your mind, body and soul this November during Cornucopia, Whistler's legendary annual celebration of food and drink. The Nourish Series of workshops and the Nourish Retreat will offer a full package of programming or à la carte workshop sessions dedicated to your mind, body and spirit during the first weekend of Cornucopia.
The Nourish Retreat is a full package for three nights and four days, while the Nourish Series offers drop in workshops and sessions that speak to specific interests. Enjoy yoga, cooking demonstrations, spa time, farm-to-table dining and more.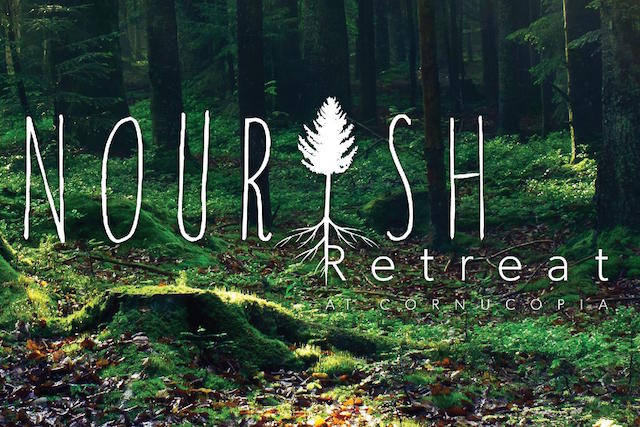 What: Nourish Series in Whistler
When: Thursday, November 5th to Sunday, November 15th, 2015
Tickets: Available online
Where: Whistler Conference Centre, various venues (Yama Yoga)
What: Nourish Health and Wellness Retreat in Whistler
When: Thursday, November 5th to Sunday, November 8th, 2015
Tickets: Available online, limited space! Includes some evening Cornucopia events
Where: Whistler Conference Centre, various venues (Scandinave, Squamish Lil'Wat Cultural Centre, and more)
This is the third year the Nourish Series has been a part of Cornucopia and the first year for the retreat. "It was a natural progression from the seminars, the luncheons and the yoga that we started with in year one," Nourish Event Coordinator Allison Hunter tells me. "We are offering a package that encompasses everything Nourish, with a splash of Cornucopia flair. Whistler has a huge heath and wellness scene and we live and breathe it here- so it fit into Cornucopia seamlessly."
Looking at the Nourish Retreat and Nourish Series schedule online, it's jam-packed with activities that focus on balance, celebration, and a feast for the senses.
"Whistler is a hub for active, healthy living and Whistler is a feast for the senses in itself. This retreat is a reflection of our town, and it is not hard to find shining examples of people eager to share their passion." ~ Allison Hunter
From quiet and inward activities like the traditional first nations smudging ceremony, the Scandinave Spa afternoon, and the one on one appointment with the Holistic Nutritionist, to events that are social such as the intimate dinners and the Cornucopia festivities.
Hunter says they will also honour age old traditions while learning about modern practices. Forest forages, yoga and hydrotherapy will be balanced by raw food, wines, and current music.
"Our hope is that our guests celebrate the balance, and take this into their every day lives."
Workshop leader Merina Koly, who manages the recently opened Zend Conscious Lounge in Yaletown, hope to share that message of balance and the 80/20 rule:
"Most are coming to the Cornucopia event to indulge in education, wine, drinks and fine food which is totally great, it's a wonderful event. That's the 20% we can be doing to enjoy life. There is a 80% that we need to be very mindful to. The health, the eating right, and providing our body with the food and premium supplements it requires to function optimally."
The beauty of the retreat is that you don't need to already be into these practices in order to participate. Koly enjoys having an interactive group where everyone has a varying knowledge that they can share. "I really like to assist those who are looking to change their lifestyle, work step-by-step towards creating more balance and wellness in their lives. I really look forward to all who come, and I am confident it will be an amazing event."
Nourish is billed as a retreat that can benefit everyone. If you have a hunger for the healthier lifestyle, Nourish is the perfect way to not only actively get started but to learn about best practices and connect with others.
"Life is busy for people — we know, and we understand," Hunter says. "This is a time to slow down, press pause, indulge, learn, connect with yourself and a likeminded community. A time to indulge in all of the good stuff life is made of!"
Read more about the Nourish Retreat and book your spot today as space is limited.