Mountain View Cemetery, Vancouver's only cemetery, is as old as the city itself. Made up of 106 acres along Fraser St between 21st Ave and 43rd Ave, it is home to several specialized tours and events throughout the year.
One of the most popular annual events, now in its 11th year, is Night for All Souls. Curated by artists Paula Jardine and Marina Szijarto, this unique cultural event offers the public an opportunity to remember their dead, whether interred at Mountain View Cemetery or not, in a gentle atmosphere of contemplative beauty.
Night for All Souls at Mountain View Cemetery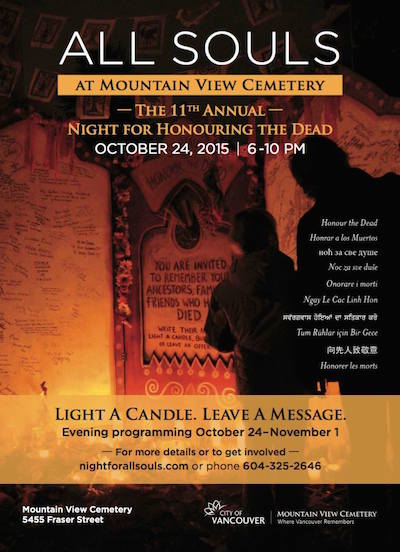 Night for All Souls is Saturday, October 24, 2015 from 6:00pm to 10:00pm.
"The first fires are lit at sundown, and throughout the evening the cemetery comes alive with music, poetry, and flickering candles. Inside the celebration hall you will find tea to refresh you, and flowers, papers and candles for the creation of personal memorials to place on one of the artist made shrines or family graves."
The cemetery's registry will be open during this event if you would like to locate specific graves.
Other events that will take place over the next two weeks include:
October 17th: Lantern Making
October 25th to November 1st: The celebration hall will be open for tea and the creation of personal memorials.
October 25th, 2015: Walking Tour
October 27th: Mourners' Tea
October 28th: Storytelling Evening
October 30th, 2015: Composer Joelysa Pankanea's The 5th Stage
October 31st, 2015: Community Shrine Lighting and Music
November 1st, 2015: Historical Walking Tour
Walking Tours
Mountain View is the final final resting place of almost 150,000 people, including Vancouver mayors; first responders who died while on active duty; WWI and WWII veterans; Freemasons, Knights of Pythias, and Odd Fellows members; and victims of disasters such as the SS Sophia, Lakeview Tram, and Rogers Pass.
Scheduled tours are promoted on Twitter, Facebook, and this page. For self-guided tours you can download PDF maps online for Self Guided Walk; Interesting Citizens: Vancouver's Mayors; and Interesting Citizens: Princess Sophia Sinking.