On a recent episode of a weekly web video series that whines about popular pet peeves, the host discussed the worst possible types of roommates. At the top of his list for being a bad roommate was the one who never takes out the garbage. Unfortunately, in my house I think that's me but instead of garbage, it's our massive recycling pile – sorry John!
In general, we do a really great job or sorting our containers (cans, bottles, packaging), paper, cardboard, and food waste. John has even commented that more of our home waste goes into the recycling bins than the dumpster, which he can easily measure if I have failed as a "roommate" and left the pile to grow and grow. Recycling is so easy to do and if one day our pile grows too big, as we do often like to host friends and family that are both fond of craft beer and delicious BC wines, we can always fill up our vehicle and drive it over to our nearest Return-It Depot.
Green Tracks Challenge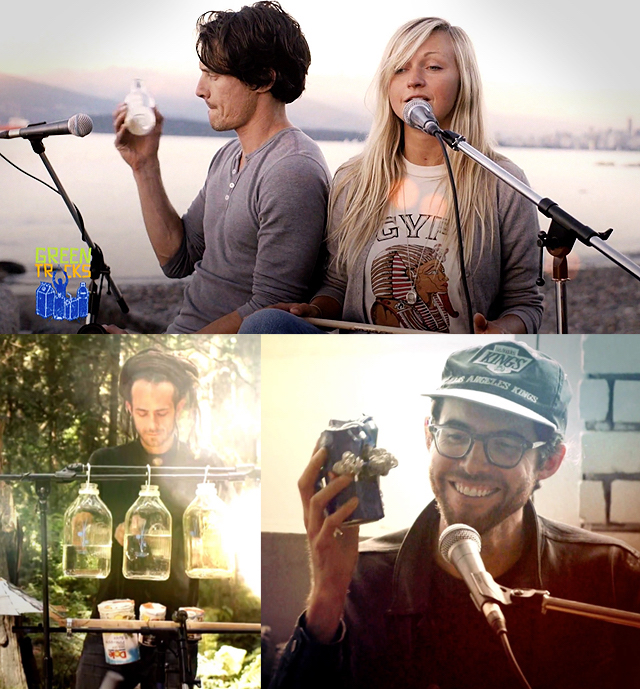 Last year British Columbians dropped off almost one billion beverage containers to Return-It depots, we are a province that loves to recycle!
To keep this up and encourage everyone to recycle, CBCMusic.ca and Return-It introduced Green Tracks this September that involved three great BC bands: Hey Ocean!, Shred Kelly and Yukon Blonde. They were challenged to create musical instruments out of recycled materials and actually perform a song. Music videos were filmed and created of their performances and posted online for public voting throughout September.
Hey Ocean! – If I Were A Ship
Filmed at Spanish Banks, Hey Ocean! incorporated a range of musical sounds and notes that they played in harmony with varying water levels in glass beverage bottles. Yukon Blonde had a shaker made from a plastic bottle filled with aluminum pull tabs.
Yukon Blonde – I Wanna Be Your Man
Yukon Blonde had a shaker made from a plastic bottle filled with aluminum pull tabs and filmed their video at a loft in Railtown.
Shred Kelly – My Vessel, My Grave
Relying almost exclusively on recycled beverage containers, they created a Ukulele from a plastic orange juice jug and a cymbal from unrolling and cutting up aluminum cans, not to mention the little drum set from bi-metal juice cans. The video was filmed at Delta Watershed Park.
The winning band was chosen by the fans who voted online for a chance to win one of four acoustic guitars and tickets to attend the private finale concert that was held on October 7th, where the winner was also announced. Over almost 1,500 people voted online and …. SHRED KELLY… was the first place winner! Followed by Hey Ocean! in second place and Yukon Blonde in third.
The winning bands each were able to donate varying amounts (dependent on their final placement – $3000 to 1st; $2000 to 2nd; $1000 to 3rd) to a charity of their choice:
Shred Kelly, the "Stoke-Folk" band out of Fernie, British Columbia, selected MusiCounts. MusicCounts, Canada's music education charity associated with The Canadian Academy of Recording Arts and Science (CARAS) helps to keep music alive in schools across Canada.
Hey Ocean! selected the Sitka Society for Conservation as their charity of choice. Established in 2014, the Sitka Society for Conservation is a registered non-profit organization which funds practical environmental initiatives.
Yukon Blonde has chosen Hives For Humanity, a non-profit organization that encourages community connections through apiculture, more commonly known as beekeeping.
Scott Fraser, CEO of Encorp Pacific, says that "In British Columbia, people recycle 80% of the used beverage containers, which is one of the highest recovery rates in the country, but we always strive to do better. Making music from empty beverage containers is a great way to get the word out and encourage recycling. Encorp is very proud of our Green Tracks program which does an excellent job combining creativity and musical talent to help bring people together to support charitable initiatives and remind people to always recycle every one of the beverage containers they use."
Whether you are re-using materials or making sure it gets to a recycling centre, it all helps! To recycle everything from your old beverage containers to old TVs, find your nearest Return-It Centre.