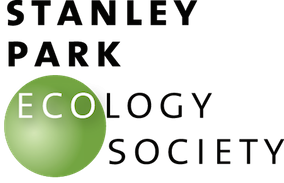 This post has been contributed by Celina Starnes, SPES Public Education & Outreach Manager with Stanley Park Ecology Society ("SPES"). I have been following SPES since I moved into the West End a decade ago and I have been a member for three years. I wanted to offer the team an opportunity to share their news, events, and work so I have created "SPES Saturday" where they contribute and share stories with my audience once a month.
Fur Flies in Stanley Park
After the sun sets, northern flying squirrels cruise the Park's tree tops.
Look! It's a bird! It's a bat! No, it's the elusive northern flying squirrel! Unlike Stanley Park's other two squirrel species – the common bushy-tailed eastern grey squirrel and the smaller Douglas squirrel – the northern flying squirrel, Glaucomys sabrinus, is rarely spotted in the Park.
What makes this species so hard to find? For one thing this squirrel is strictly nocturnal. Its large eyes and whiskers help it to see and feel in the dark, and a sensitive nose leads it to its favourite food: truffles (fungi).
This squirrel's penchant for truffles benefits the forest when the squirrel inadvertently spreads the truffles' spores.
The fungus has a symbiotic (mutually beneficial) relationship with the forest that provides the trees with otherwise unavailable water and nutrients from the soil and the fungi with carbohydrates from the trees.
The same feature that gives these fascinating rodents their name is another reason why this squirrel eludes detection. They cannot fly, but they do adeptly glide five to 25 metres through the forest canopy on thin "wings" of skin stretched from wrist to ankle. The skin flaps that help them fly, however, hinder their locomotion on the ground, so these squirrels stick to the trees to get around.
They are so elusive up there, though, that the last one identified in Stanley Park was in 2007 by a biologist thinning branches during post-windstorm restoration initiatives.
Your best chance to spot one of these night creatures, then, would be on Stanley Park Ecology Society's free annual Creatures of the Night candlelit forest walks on Thursday to Sunday nights every half hour in parallel with the Stanley Park Halloween Ghost Train, October 9th to November 1st, 2015.
Stanley Park Ecology Society members ride free on the Stanley Park Ghost Train!