"I believed that I could compete with the boys if I was tough enough," Bif Naked wrote on her Instagram feed during a recent "Throwback Thursday" post. "I was so serious. I was deliberately gruff. I wanted to be accepted, and included. My hunger for equality was endless."
Anyone who knows Bif or follows her on social media knows that despite her kick-ass, tough girl on stage persona, she really is the sweetest and self-admittedly "lovey dovey" soul who loves to laugh and give everything she can to help others. But it's funny, she really is tough, very tough. I can't believe how tough this woman really is.
Bif Naked arrived in Vancouver from Winnipeg in 1990 when her band had a gig opening for The Wongs (Chi Pig from the Canadian hardcore punk band SNFU). After the show, she decided not to leave. Although Toronto would have been the popular choice for a budding rock star to set up shop, she found Vancouver to be the home base she needed. "The Vancouver music scene has always been very nurturing. It's kind of the dirty cousin of Toronto and we take pride in that."
Over the last 25 years Bif has released 5 studio albums, 5 EPs and compilations, starred in music videos (her own and others'), hosted a reality series, starred in a reality show, made guest appearances on TV shows, survived breast cancer, kidney failure, heart surgery, and divorce. In 2013, the University of the Fraser Valley also awarded her with an honorary doctorate.
"Twitter happened for me 7 years ago, which is also when I got married, which is also when I was diagnosed with cancer," Bif told me as we sat at her dining room table. On my way into her house I passed piles of donation items, dropped off by her neighbours, that she was going to deliver to aid refugees in Vancouver. I added this to my mental list of the many causes she supports through volunteerism and advocacy – much of which is done on her own time and with little fanfare.
Surrounded by wooden bookcases and photos of loved ones that included dearly departed pups Annastasia and Nick Naked, Bif continued. "I think somehow people became comfortable with me, where previous to that they only really saw the girl in the videos. They thought I had a motorcycle, and big dobermans or whatever, and I think it humanized me."
Bif's last EP, Bif Naked Forever: Acoustic Hits & Other Delights was released in 2012 and since that time she has done countless speaking engagements, volunteered with non-profit organizations, and recently completed an autobiography.
"Everyone knows who Bif Naked is, she is a legend and an icon."
"People don't expect me to generally be very eloquent or have the desire I guess to speak, or even to go do any advocacy or peer to peer work. When I was in chemo I just kind of had the opportunity to do that and display that kind of desire." She began accepting speaking invitations for breast cancer awareness events and organizations, which forayed into other opportunities.
Her strength is motivating others, whether it be about getting mammogram, dealing with menopause, trying to find strength to get through whatever you're going through — or how to navigate changing a duvet cover with a partner who is all thumbs. "Ultimately I'm just trying to be normalizing. Like simple things like that every girl can basically relate to."
She started doing rock shows again, writing, and this past May she was engaged to an adorable man whom she met through a longtime bandmate and mutual friend. "Always a bride, never a bridesmaid!" Bif laughed as she beamed with the joy of describing how they met, where they go on dates, how much he loves KISS, and how they finish each others' sentences.
"I feel somehow that I'm rehearsed for it, having been married before, you know all of the mistakes I may have made in my last relationships, or just the things I missed. I think being diagnosed so quickly after being married didn't help and we didn't really know each other well enough."
The next step for Bif will be the publication of her book, through Harper Collins, which is expected to hit shelves (both online and in store) in the spring of 2016. With that will come a tour that will hopefully incorporate readings and acoustic performances as she feels many of he songs will be relevant to the content of the book.
No matter the outcome and reception of the autobiography, she says she feels extremely satisfied regardless, because her dad liked it. "Being able to read my manuscript to my dad in his last days, and hearing him laugh at the right spots, it was the best. It was the best."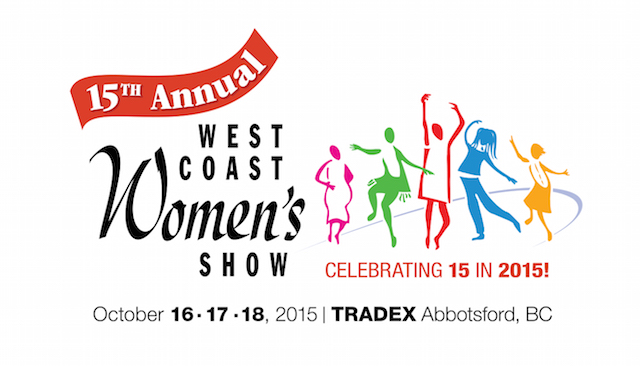 Join Bif at Western Canada's largest women's show on Saturday, October 17th on the main stage at 3:30pm. She will be speaking, playing some acoustic music, and I'm sure she'll also be up for a selfie with you.
When: Friday October 16, 2015 from 1:00pm to 10:00pm; Saturday October 17, 2015 from 10:00am to 9:00pm; Sunday October 18, 2015 from 11:00am to 5:30pm.
Where: TRADEX in Abbotsford (1190 Cornell Street)
Tickets: At the door: Adults $12; Seniors (65+) $9; Seniors (65+) Friday from 1:00 to 5:00pm $7 (no coupon required); Youth (13 – 17) $9; Children (6 – 12) $4; Children (5 & under) are free. Save $2 online and in store at London Drugs!
Follow the West Coast Women's Show on Facebook and Twitter for more information.