Western Canada's largest celebration of reading and writing is taking over the city this month with 100 readings, 150 authors, and 20 workshops all being a part of the Word Vancouver festival between September 23rd and September 27th, 2015.

Word Vancouver
From Wednesday to Friday, experience author readings at these venues: SFU Harbour Centre, The Cottage Bistro, Christianne's Lyceum, Banyen Books & Sound, Historic Joy Kogawa House, and CBC Studio 700. On Saturday, September 26th, take part in free professional development workshops at Vancouver Public Library Central Branch.
Wednesday, September 23rd @ 5:45pm
SFU Harbour Centre (515 W Hastings St)
Launch of The Revolving City: 51 Poems and the Stories Behind Them (SFU Public Square and Anvil Press)
Thursday, September 24th @ 7:00pm
The Cottage Bistro (4468 Main St)
Pandora's Collective Presents Twisted Poets Literary Salon – Kate Braid & Elizabeth Bachinsky
Friday, September 25th @ 6:00pm
Christianne's Lyceum (3696 W 8th Ave)
Adventure Awaits! – readings by Tiffany Stone, Elisa Gutierrez, Kathy Beliveau, and Lee Edward Födi
Friday, September 25th @ 6:30pm
Banyen Books & Sound (3608 W 4th Ave)
Kemila Zsange, Past Life Regression: A Manual for Hypnotherapists to Conduct Effective Past Life Regression Sessions (Journey Beyond Production)
Friday, September 25th @ 7:30pm
Historic Joy Kogawa House (1450 West 64th Ave)
Adventures in Song and Story with Grant Lawrence
Friday, September 25th @ 7:30pm
Studio 700, CBC (at 700 Hamilton St)
Pandora's Collective Literary Awards Gala
Saturday, September 26th from 11:00am to 5:00pm
Central Branch, VPL (350 W Georgia St)
A day of professional development workshops for writers and publishers
Sunday, September 27th, from 11:00am to 5:00pm
Library Square (in and around VPL Central Branch, 350 W Georgia St)
Festival day
Festival Day on Sunday September 27th
The big festival day happens on September 27th in and around the Central Branch of the Vancouver Public Library (350 W Georgia St, between Robson and Georgia and Hamilton and Homer). Come hear musical performances, free readings and panel discussions, and take part in free writing workshops. Canadian authors and book, magazine, and comics exhibitors are all gathered to share a passion for the written word. Fun for literature and literacy lovers of any age.
Check out the Family Stage, family-friendly activities all day long; and Underground Words + Art, comics and chapbooks programming and exhibitors.
Other weekend events, in and around Library Square:
Canada Writes, Authors' Words, Family Stage, dances, poetry vending machines, typewriter stations, Kids Lit, Poetry On The Bus, Magazine Words, Writing Talks, Word Talks, and more. A crowd favourite, The Book Bag Treasure Hunt, will also return! Purchase a festival book bag for just $20, already filled with treasure. Set out on your literary journey and add to your collection as you come across participating exhibitors.
The Vancouver Book and Magazine Fair Society produced the former The Word On The Street Vancouver festival between 1995 and 2012, which was rebranded as Word Vancouver in 2013. Over the span of two decades, the festival has expanded from a single day event to a five-day event, attracting thousands of local, Canadian, and international festival-goers to its events.
Word Vancouver is part of Culture Days. Admission is FREE to all events. Download the full program here. Follow Word Vancouver on Facebook and Twitter for more information.
Win a Book Prize Pack
I have a hardcover book prize pack to give away that includes: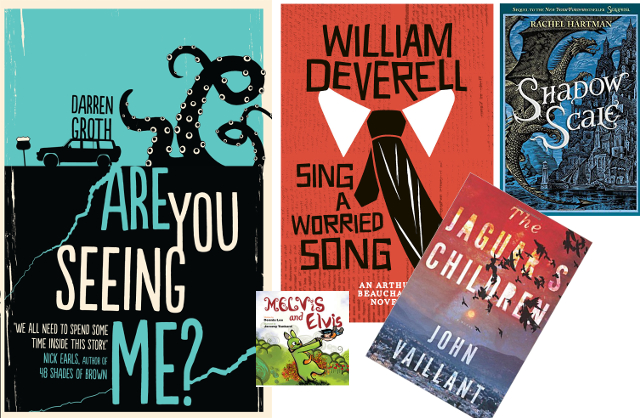 Melvis and Elvis by Dennis Lee, illustrated by Jeremy Tankard
Shadow Scale by Rachel Hartman
The Jaguar's Children by John Vaillant
Sing a Worried Song by William Deverell
Are You Seeing Me? by Darren Groth
Here's how you can enter to win:
Leave a comment on this post (1 entry)
Post the following on Twitter (1 entry)
RT to enter to win a @WORD_Vancouver hardcover prize pack from @Miss604 http://ow.ly/StFMk
I will draw one winner at random from all entries at 12:00pm on Wednesday, September 23, 2015. The winner must be able to pick up the prize from the Word Vancouver office.