I love taking a walking tour of Vancouver and learning something new. Having published hundreds of history posts over the years, I'd like to think my knowledge is pretty vast but when I have an excellent guide like Maurice Guibord, Historical Researcher and Director of the BC Historical Federation, my head fills with even more interesting facts and I feel even more passionate about my city.
Intracorp, who is excited to move into the West End with their new development, The Jervis, invited Maurice to tour around a group of local media around the West End earlier this summer to show off some of the neighbourhood's unique architecture and history.
We snapped photos of tiles, foyers, grand entrances, brick work, and learned about the people that have made this part of town great – from the Three Greenhorns to Jim Deva.
Share Some West End Love…
What I love about the West End is that when you walk in from one of its three major streets, Robson, Denman or Davie, you hear birds chirping, neighbours chatting, and kids playing — but you're still in the centre of a metropolis. You have the best urban park in the world on one side, a world class city on another, and beaches all around the rest. I've called the West End home for 10 years now and from its small businesses and cafes to convenient retail options and proximity to both the Downtown Core and Stanley Park, I can't imagine living anywhere else in Vancouver.
Enter to Win a West End Prize Pack
Intracorp is crazy about their new neighbourhood too and they want to share it with you. They've supplied a $100 gift card for Exile Bistro and a Fuji Instax camera so that one lucky Miss604 reader can have their own dinner and photowalk in the West End. Here's how you can enter to win:
Leave a comment naming what you love about the West End, if you're a resident or a visitor who loves the beaches, the park, shops, restaurants, etc. (1 entry)
Post the following on Twitter (1 entry)
RT to enter to win a West End prize pack from @IntracorpCanada #TheJervis + @Miss604 http://ow.ly/SA6rS
I will draw one winner at random from all entries at 12:00pm on Wednesday, September 30, 2015.
About The Jervis
Renowned designers Niels and Nancy Bendsten, principals of Vancouver's Inform Interiors and leaders in the modernist movement, have formed a unique architectural design partnership with national developer Intracorp. This partnership has created The Jervis: modern, design forward homes that complement their dynamic West End neighbourhood. Intracorp is working with InForm and the City of Vancouver to create a socially sustainable development that offers 58 market homes and 28 non-market suites, along with lively street level retail.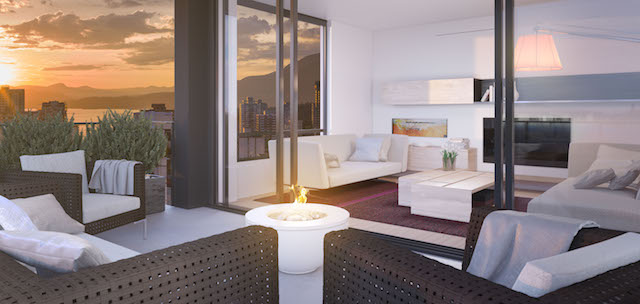 Set in a prime West End location on Jervis Street, The Jervis is close to a vibrant community of flourishing businesses, award-winning restaurants and beautiful parks and beaches. The Jervis will fill the needs of young families, urban professionals and downsizers equally well, fostering an integrated community of unique, truly liveable homes.
Update The winner is Shuko Johner!