Broadway Across Canada presents ONCE in Vancouver, November 17th to 21st at the Queen Elizabeth Theatre. Winner of 8 2012 Tony Awards® including Best Musical, ONCE is a truly original Broadway experience.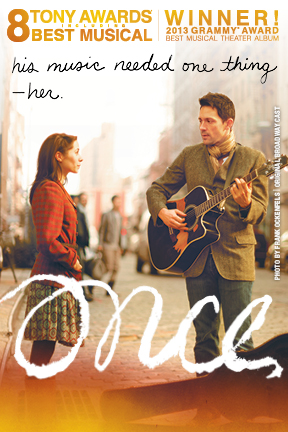 Featuring an impressive ensemble of actor/musicians who play their own instruments onstage, ONCE tells the enchanting tale of a Dublin street musician who's about to give up on his dream when a beautiful young woman takes a sudden interest in his haunting love songs.
As the chemistry between them grows, his music soars to powerful new heights… but their unlikely connection turns out to be deeper and more complex than your everyday romance. Emotionally captivating and theatrically breathtaking, ONCE draws you in from the very first note and never lets go. It's an unforgettable story about going for your dreams and the power of music to connect us all.
Tickets for ONCE go on sale Monday, September 14, 2015 online or by calling 1-855-985-5000. Tickets start at $25 (plus applicable service charges). Reservations for groups of ten (10) or more are now being accepted by calling 1-800-889-8457. Performances run Tuesday through Saturday evenings at 8:00pm, Sunday evening at 7:30pm with Saturday and Sunday matinees at 2:00pm. ONCE in Vancouver, presented by Broadway Across Canada, is part of three city Canadian tour including stops in Calgary (November 3rd to 8th) and Edmonton (November 10th to 15th).
Pre-Sale Code for ONCE in Vancouver
Beat the box office and book your tickets in advance of the general sale by using this pre-sale link and the code MOVIE starting at 10:00am September 11th and ending at 10:00pm on September 13th.
Follow Broadway Across Canada on Twitter and Facebook for more information about their shows coming to Vancouver in 2015 and 2016.