Vancouver's annual Around the Dome Science Festival, presented by Genome British Columbia, is taking over Science World for the next month. Starting this weekend with a FREE day of admission on Sunday, September 27th (thanks to BC Hydro) the fun continues with special events and workshops through to October 25th.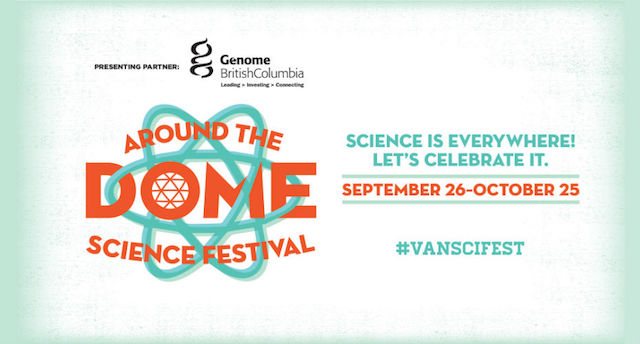 Saturday, September 26 & Sunday, September 27, 2015
Community Science Celebration from 10:00am to 6:00pm. Explore eye-popping science shows and lots of exhibitors, demonstrations, activities and programs for the whole family. Meet the people in our community doing cool science each and every day.
Sunday, September 27, 2015
Enjoy a free day of science Under the Dome from 10:00am to 6:00pm.
Saturday, October 3, 2015
Orphaned Wildlife Rehabilitation Society (OWL)
Learn about OWL from 11:00am to 3:00pm. They provide care to over 400 birds of prey each year. Meet a raptor and learn about the work that OWL staff and volunteers do to rehabilitate injured and orphaned birds.
Saturday, October 3 & Sunday, October 4, 2015
Make Your Own Origami Whale
Create your own origami whale with the help of staff and volunteers. This program is inspired by Science World's new OMNIMAX film, Humpback Whales.
Wednesday, October 7, 2015
Café Scientifique: Keeping Animals Happy and Healthy
Join Science World for ideas, discussion and refreshments as you hear from professionals working in animal behaviour, health and welfare on current issues and how we can improve the lives of animals in our care.
Sunday, October 11, 2015
Water Education Day
Interact with water and the water cycle. Where does your water come from and what happens to the water that you use? Chat with scientists, researchers, specialists and employees to better understand and appreciate your water.
Saturday, October 24 & Sunday, October 25, 2015
City Farm Fest
Celebrate urban agriculture and backyard biodiversity. Learn about composting at home, take a tour of our gardens, meet city chickens and more.
Throughout the month there will also be a City of Vancouver Viaduct Display, the ACEC—2015 Awards for Engineering Excellence Road Show, First Responders Weekend, BC's Waste Ace Contest, and more. Check out the full schedule of events online.
Guests are encouraged to experience more of their community and help reduce our carbon footprint by taking public transit. For more information follow Science World on Facebook and Twitter.