Bacon lovers rejoice! Urban Digs Farms has a festival just for you this weekend as they celebrate all things crispy, smokey, and cured. The 6th annual Baconfest takes place September 26th featuring local craft beer, live music, farm gate shopping, and of course, bacon.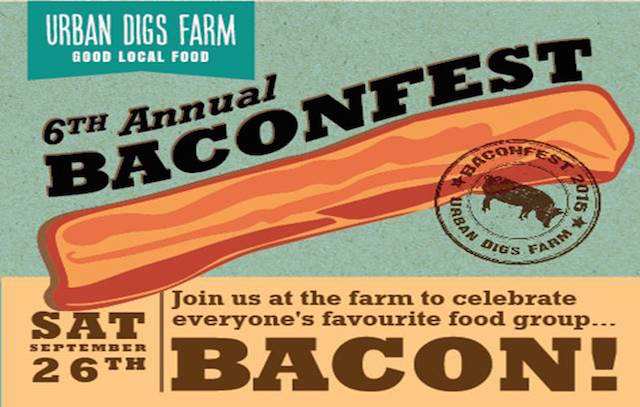 Baconfest at Urban Digs Farm
Where: Urban Digs Farm @ 4992 Byrne Road, Burnaby
When: Saturday, September 26, 2015 from 6:00pm to 10:30pm
Tickets: Available for purchase online for $5 and at the door for $10 while supplies last. Admission is free for Urban Digs members.
Baconfest will feature a selection of dishes all featuring bacon such as grilled Irish bacon buns, pork bacon hot dogs, smoked chicken and bacon sandwiches, Oceanwise Sockeye salmon with maple bacon topping, bacon veggie plates, bacon dessert plates, and more.
Follow Urban Digs Farm on Facebook and Twitter for more information.