A t-shirt could be your ticket to an amazing destination in Asia courtesy of Vancouver International Airport ("YVR") and its partner airlines. These graphic t-shirts have been available for free at events and festivals all summer long and each one features one of the grand prize destinations: China, Japan, Taiwan, Hong Kong, Korea and The Philippines.
Here's how T-Shirts to Paradise works:
Visit a YVR Community Festival Booth located across the Lower Mainland this summer and pick up a t-shirt (last chance is September 5th at the Richmond World Festival)
Snap a photo of you with a t-shirt showing the destination of your choice
Sign up at the event with YVR's Brand Ambassadors through email submission
Post your photo to Facebook, Twitter or Instagram using #TSHIRTSTOPARADISE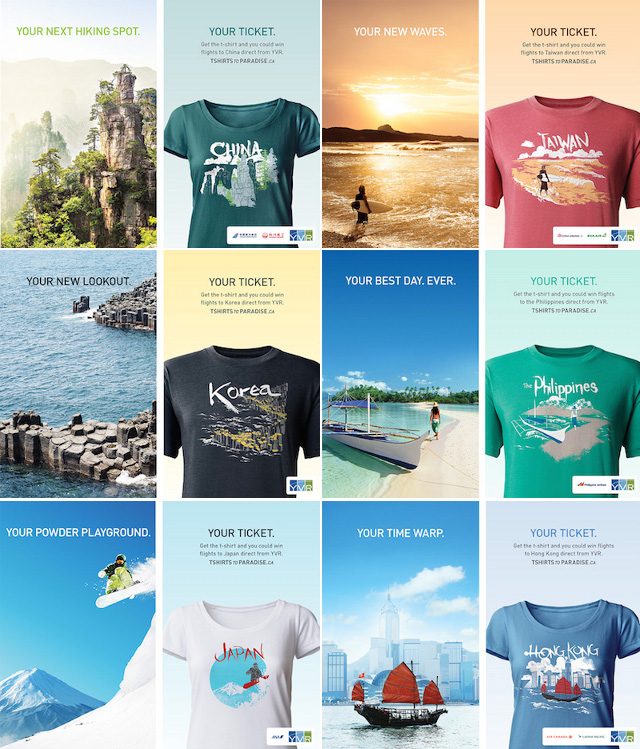 YVR has strong linkages to Asia, with up to 134 direct flights per week to Asia at the peak period in August. Thirteen air carriers currently service routes between YVR and 10 major destinations in Asia, providing excellent connections to all parts of the region. YVR is also the only airport in North America with service from four mainland China carriers: China Eastern, China Southern, Air China and Sichuan Airlines.
Fly Business Class to Japan, or receive a a $5,000 travel voucher to Korea, the prizes are amazing for any seasoned world traveler or first time explorer. In total, there will be nine grand prize winners thanks to partner airlines. Contest closes at midnight on September 13, 2015.
Win a YVR Airport T-Shirt to Paradise
Since each t-shirt could be your ticket to paradise, I'm going to arm 60 Miss604 readers with the t-shirt of their choice so that they can enter to win the grand prizes. I'm giving away 10 t-shirts for each destination!
Once you have your t-shirt, you can then enter to win grand prize trips, outlined above, by sharing a photo of yourself in the shirt using the tag #TSHIRTSTOPARADISE on Facebook, Twitter or Instagram.
Here's how you can win a t-shirt, which could be your ticket to paradise!
Leave a comment on this post naming the t-shirt you want (which will correspond with the destination to which you'll be entering to win a trip): China, Japan, Taiwan, Hong Kong, Korea or The Philippines. (1 entry)
Post the following on Twitter (1 entry)
I want to win #tshirtstoparadise from @Miss604 so I can enter to win a trip to Asia from @YVRAirport http://ow.ly/Rt8SE
I will draw 10 winners for each shirt (60 winners) on Thursday, September 3, 2015 at 12:00pm. Note the Miss604 contest is only for the t-shirts, with the t-shirts though, you can enter to win the grand prize airfare/trips.
Must be 19+ to enter the contest. Check out full grand prize details and rules online and follow YVR Airport on Twitter and Facebook.