It's Pride Week in Vancouver and that means there will be no shortage of events for the LGBTQ2+ community and beyond. This weekend alone there is the Pride Youth Dance, Laugh Out! Starring Elvira Kurt, and the Pride in the Village BBQ, and next weekend is Pride Night at the Whitecaps Match. The biggest of all events is the Vancouver Pride Parade, which draws over half a million spectators downtown each year and is one of the largest and most successful LGBTQ2+ events in the world. This year's theme is Gender Superheroes.
Vancouver Pride Parade 2015
Ever since we have lived in the West End (going on 10 years now) John and I have enjoyed watching the pride parade because it is so cheerful, inclusive, fun-filled, and vibrant. It has great music, exciting floats, happy faces, giveaways, and everyone from church groups and bands to community organizations and businesses take part. Here's all you need to know about this year's Vancouver Pride Parade:
When Sunday, August 2, 2015 from 12:00pm to 3:00pm
Where The parade begins at Robson Street and Thurlow Street, heads west to Denman Street, follows Denman to Pacific Street and Beach Avenue and finishes at Sunset Beach Pride Festival and Pride Market.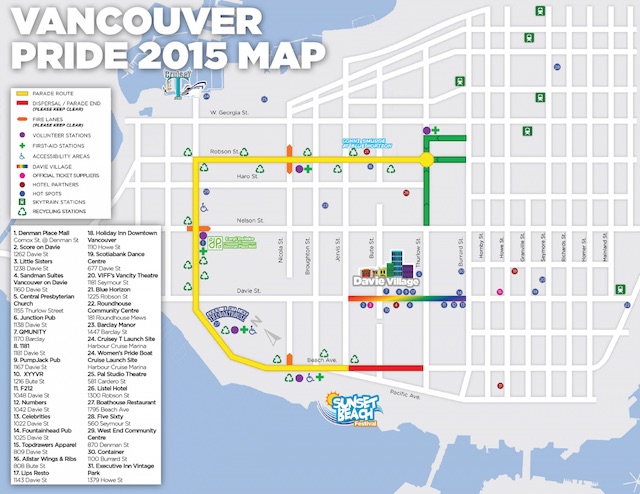 Click here to view large map
At the Sunset Beach Pride Festival and Pride Market you can browse through over one hundred exhibitors including local artisans, supporters and community organizations. A variety of bands, drag performers and speakers will be featured on the main stage, with DJs spinning in the beer garden throughout the day.
2015 Pride Parade Grand Marshals
To inspire people this year and reflect the diversity at Pride, Roan Reimer, Michelle Fortin, and Romi Chandra Herbert are this year's Pride Grand Marshals.
Vancouver Pride Parade Viewing Areas
Spectators can line the streets all along Robson, Denman and Beach Avenue. There are a few hosted viewing parties as well at The Boathouse and at Allstar Wings and Ribs.
Vancouver Pride Parade Road Closures
Road closures will run anywhere between 8:00am and 4:00pm on Sunday, August 2, 2015.
Alberni Burrard to Thurlow 1000 block: 7:00am to 3:00pm
Alberni Bute to Thurlow 1100 block: 7:00am to 3:00pm Local Traffic Only
Robson Burrard to Bute 1000 to 1100 blocks: 7:00am to 3:00pm
Thurlow Georgia to Nelson 700 to 900 blocks: 7:00am to 3:00pm
Robson Bute to Denman 1100 to 1600 blocks: 10:00am to 3:30pm
Denman Robson to Beach 800 to 1200 blocks: 10:00am to 4:00pm
Beach Denman to Jervis 1300 to 1700 blocks: 10:00am to 4:00pm
Pacific Jervis to Burrard 1000 to 1200 blocks: 11:00am to 5:00pm
Vancouver Pride Parade Etiquette
Tips on being a good spectator from parade organizers:
Please stay off road – let marchers come to you to get free swag.
No spraying water or throwing object at entries. Their costumes and sound equipment is very expensive.
Use recycling and garbage bins provided around the venue. Help our event become zero impact.
Parking along the Parade route is extremely limited so leave your car at home and take transit to the Parade.
Open alcohol is prohibited on streets and parks so leave it at home. Come to the beer garden at Sunset Beach after the Parade and have a toast.
Remember to practice sun safety by wearing a hat, applying sunscreen, and staying hydrated.
Stay off the Parade route to give floats and marchers lots of room to move. Take all pictures from the side of the road.
The Vancouver Pride Society has all of the information you need to have a safe and happy Pride in Vancouver. Follow along on Facebook and Twitter along with the tags #VanPride + #PrideParade2015.