Many wine lovers have thoroughly explored the popular, grape-filled and sun-soaked vineyard benches of Kelowna, Penticton, Oliver, and Osoyoos and enjoyed with their delicious wines that also fill local liquor store shelves and glasses. However, there are two BC wine areas — very close by — that are worth exploring if you're looking for tasting rooms to visit in BC this season. While Similkameen Valley and Okanagan Falls aren't exactly new wine regions, they just might be new to you!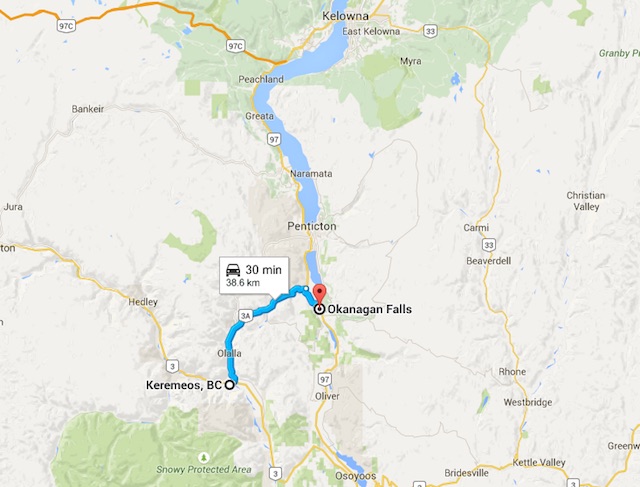 Similkameen Wineries Association
Recently named one of the world's "5 Best Wine Regions You've Never Heard Of", you've most likely driven through the Similkameen on your way to the Okanagan.
Make no mistake however, those vineyards you spot along Highway 3 are all a part of the Similkameen Valley, which is its own distinct region, separate from the Okanagan Valley. With Keremeos known as the "fruit stand capital of Canada", it's no wonder it would make a great region to grow grapes as well.
The Similkameen Wineries Association is a collective of 11 wineries and a cidery located in Cawston and Keremeos in the Similkameen Valley including Cerelia, Clos du Soleil, Corcelettes, EauVivre, Forbidden Fruit, Hugging Tree, Orofino, Robin Ridge, Rustic Roots, Sage Bush, Seven Stones and Twisted Hills Craft Cider.
There are two exceptional events that celebrate Similkameen wineries that you should put on your calendar. The Similkameen Country Christmas Winery Open House Tour in December, and the Similkameen BBQ King competition in July. This summer, 9 chefs from the region paired up with 9 wineries and competed to create the best BBQ plates using a select basket of local ingredients. Hosted at the historic Grist Mill and Gardens in Keremeos, you can stroll the grounds, meet winemakers, and sample the delicious creations and pairing from each chef. This year's winner was none other than the Grist Mill's own in-house Chef Natasha Schooten.
Follow Similkameen Wine on Twitter and Facebook for more information about their wineries, special events, and more.
Okanagan Falls Winery Association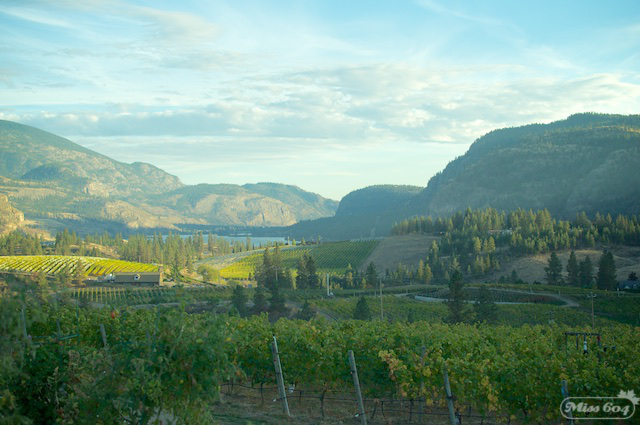 Everyone loves our popular and world-famous Okanagan wine region, starting from Osoyoos and heading all the way up past Kelowna. If you're traveling the distance from south to north (or north to south), be sure you stop into the Okanagan Falls wineries, located between Penticton and Oliver/Osoyoos. There you will find 13 Okanagan Falls Winery Association members:
Blasted Church Vineyards, Blue Mountain Vineyards, Kraze Legz, Liquidity, Meyer Family Vineyards, Noble Ridge Vineyard and Winery, Painted Rock Estate Winery, Pentâge, See Ya Later Ranch, Stag's Hollow Winery & Vineyard, Synchromesh Wines, Top Shelf Winery, Wild Goose Vineyards.
The Okanagan Falls wine region has a unique and highly varied terroir, microclimates and natural environment, quite unlike anywhere else in the valley, enabling them produce unique high quality wines. The community is tight knit and the wineries are predominantly still family-owned. The first grape vines planted in the area date back to 1961 and it has gorgeous views of both sides of the Okanagan Valley.
The beach on the south shore of Skaha Lake was where we enjoyed the summer Party in the Park, with a BBQ cookout, wine tasting from OK Falls wineries, live music and dancing. There's a full year-long calendar of community and wine region events to check out as well. Follow the Okanagan Falls Winery Association on Facebook and Twitter to plan your next visit.