The Honda Celebration of Light is the world's largest offshore fireworks competition and in Vancouver there's plenty of action onshore to get crowds pumped for the spectacular displays in the sky. SHOREFEST is returning to English Bay and Sunset Beach, presenting talented homegrown artists in a free concert series on each night of the fireworks.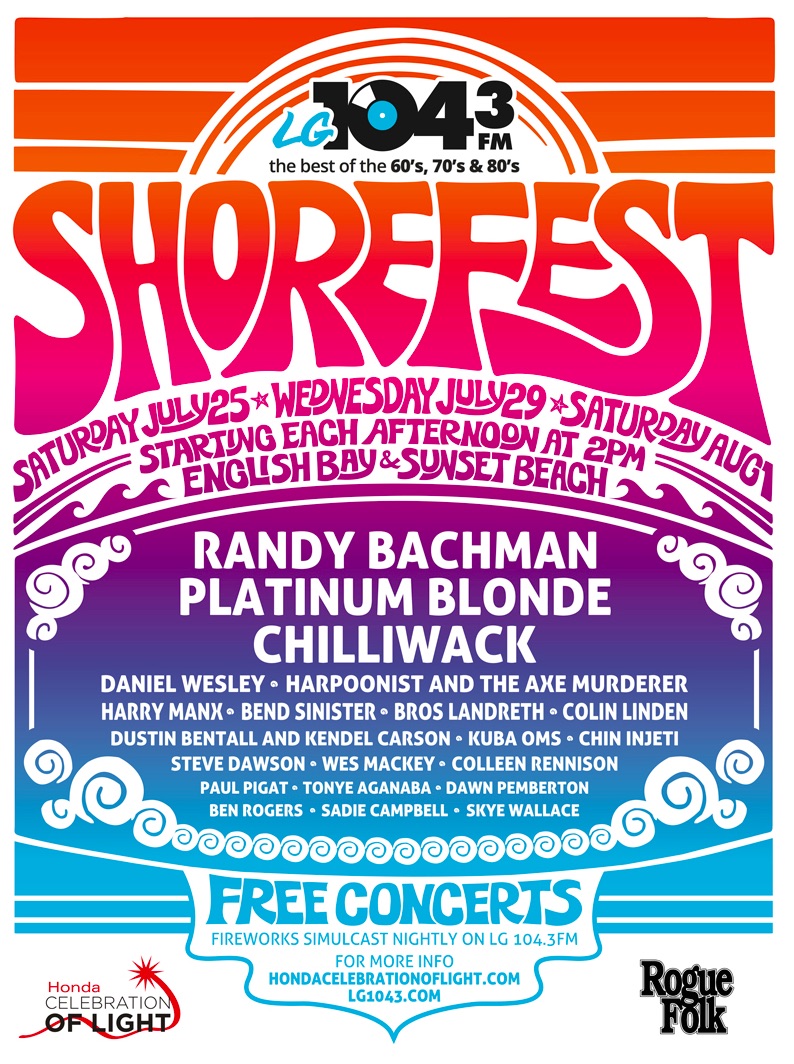 2015 SHOREFEST Concert Schedule and Lineup
Presented by LG 104.3, with a beautiful west coast backdrop, enjoy over 20 free shows ranging from R&B and soul to blues and rock on Saturday, July 25th; Wednesday, July 29th; and Saturday, August 1st.
SATURDAY JULY 25th
Sunset Beach Stage
2:00pm – Paul Pigat
3:00pm – Sadie Campbell
4:00pm – Tonye Aganaba
5:00pm – Ben Rogers
6:00pm – Harry Manx

English Bay Stage
7:30pm – Bend Sinister
8:30pm – Platinum Blonde

WEDNESDAY JULY 29th
Sunset Beach Stage
2:00pm – Skye Wallace
3:00pm – Dawn Pemberton
4:00pm – Harpoonist and the Axe Murderer
5:00pm – Steve Dawson
6:00pm – Colin Linden

WEDNESDAY JULY 29th
English Bay Stage
7:30pm – Dustin Bental w/ Kendel Carson
8:30pm – Randy Bachman

SATURDAY AUG 1st
Sunset Beach Stage
2:00pm – Wes Mackey
3:00pm – Chin Injeti
4:00pm – Bros Landreth
5:00pm – Colleen Rennison
6:00pm – Daniel Wesley

English Bay Stage
7:30pm – Kuba Oms
8:30pm – Chilliwack
Check out the full list along with artist bios online and follow the tag #SHOREFEST on social media.