The FIFA Women's World Cup has left Vancouver after inspiring young players, smashing records on and off the pitch, and giving the city a flashback to its 2010 Winter Olympics atmosphere. All in all, I attended 7 matches at BC Place, including group stages, Round of 16, the quarter-final, and the final, watching the seats fill from 20,000 spectators to over 50,000 in the last few matches in Vancouver.
The Canada v England match at BC Place was the highest attended and border line-ups were staggering as Americans came up to support their team throughout several stages of play. Flags waved on Robson Street and face paint was the official accessory of summer in Vancouver. The city came alive with national pride, whatever your nation, and that's what made this event so special.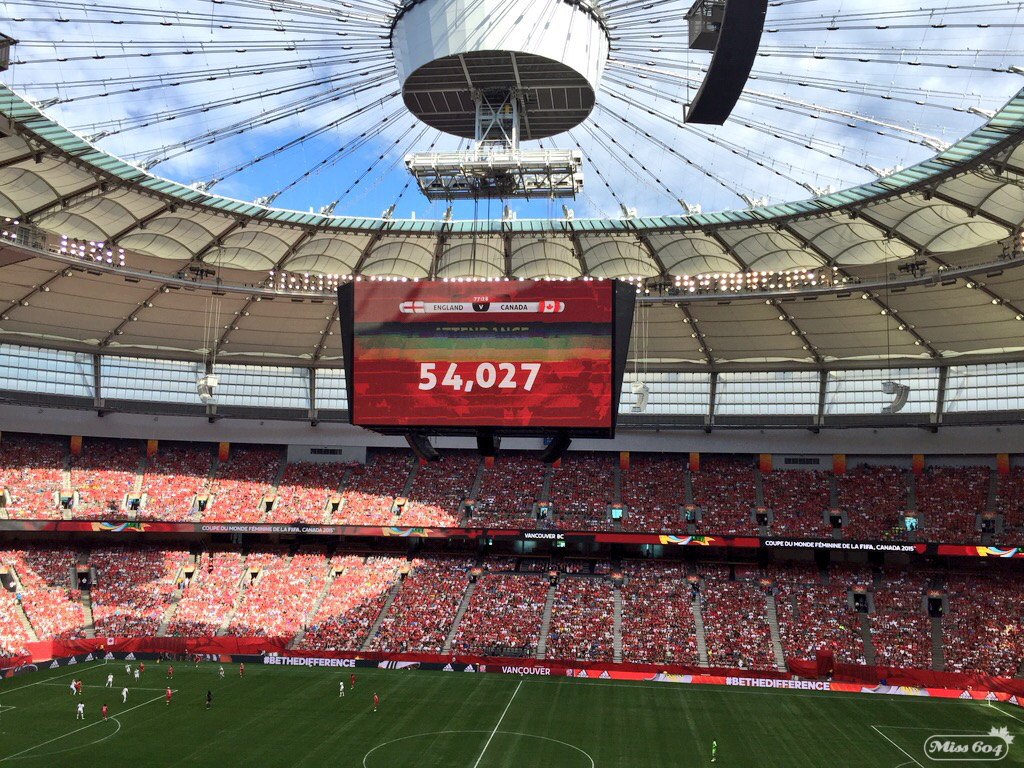 FIFA Women's World Cup Canada Final Report
Here are some key figures released by FIFA at the end of the tournament:
Attendance
Host Cities: Vancouver, Edmonton, Winnipeg, Ottawa, Moncton, Montreal
Total attendance: 1,353,506
Average attendance: 26,029
Biggest attendance: 54,027 for the Canada vs. England quarter-final in Vancouver
Seven matches had over 50,000 spectators in attendance
Canada 2015 set a new total attendance record for a FIFA competition other than the FIFA World Cup™
Competition Stats
Total of 146 goals scored
Average of 2.81 goals per match compared to 2.69 in 2011
England achieved a historic first victory over Germany after 18 defeats and two draws.
USA vs. Japan beat the previous record set in 2011 for the highest scoring Final in FIFA Women's World Cup™ history
Carli LLOYD (USA) scored the first ever hat-trick in a FIFA Women's World Cup™ Final
USA surpassed Germany as the top scoring team in FIFA Women's World Cup™ history with 112 goals
Television
Canada: CTV and RDS broke the Canadian viewing record for any FIFA Women's World Cup™ match (quarter-final: average audience 3.2 million)
USA: FOX scored its biggest ever audience for a football match (semi-final: average audience 8.4 million)
France: W9 achieved its best figures on record and set a new French digital terrestrial viewing record (quarter-final: average audience 4.1 million)
Japan: Fuji TV attracted more than twice the number of viewers for the semi-final than in 2011 (semi-final: 9.3 million)
In the United States, the average audience exceeded every game of the NBA Finals, the 2014-15 broadcast season average of every show in primetime, including Sunday Night Football, and the primetime average of the Sochi Olympic Winter Games.
Fan Zones
The Fan Zone areas in each host city were a great success with the Vancouver site proving the most popular destination with over 100,000 fans attending over the course of the tournament.
Canada 2015
I attended the closing FIFA press conference just ahead of the final match on Sunday, where executives praised the Canadian organizers for their "flawless" execution of the events. It was the first time FIFA had ever had a World Cup take place across 5 time zones and there were a lot of logistics to work out.
In terms of Team Canada's performance, Peter Montopoli, Chief Executive Officer of the National Organising Committee and Canada Soccer General Secretary said that Canada is the only nation to have U-17, U-20, and Women's World Cup teams that have all advanced past group stages in international tournament play. Montopoli added that four years ago, Canada's Women's National Team was ranked 16th in the world and today, they are 6th out of 209 FIFA eligible teams, which is a great step forward.
Now we move on to the legacy of the Women's World Cup in Canada, encouraging and engaging youth, especially young women, to get involved in soccer across Canada as well as in the countries that had their World Cup debuts at this tournament. Côte d'Ivoire, Costa Rica, Ecuador, Spain, Thailand, the Netherlands, Switzerland and Cameroon all made their first appearances with Netherlands, Switzerland, and Cameroon all making it to the Round of 16.
"This World Cup should serve as inspiration to all the member associations," commented Lydia Nsekera, Chairwoman of the Committee for Women's Football and the FIFA Women's World Cup, at the tournament's closing press conference. Nsekera also urged the champions not to rest on their laurels – while the seventh women's world finals are now over, the eighth are already coming into view. Women's national teams will now compete in the PanAm Games, regional tournaments like the East Asia Cup, the Rio 2016 Olympics, and the next FIFA Women's World Cup in France, 2019.