Surrey Doors Open is happening on Saturday with dozens of local organizations, recreation centres, cultural institutions, and businesses opening their doors for free for public tours. In the heart of Downtown Surrey, the Whalley's Corner Community Festival will be one of the free shuttle bus stops available during Surrey Doors Open.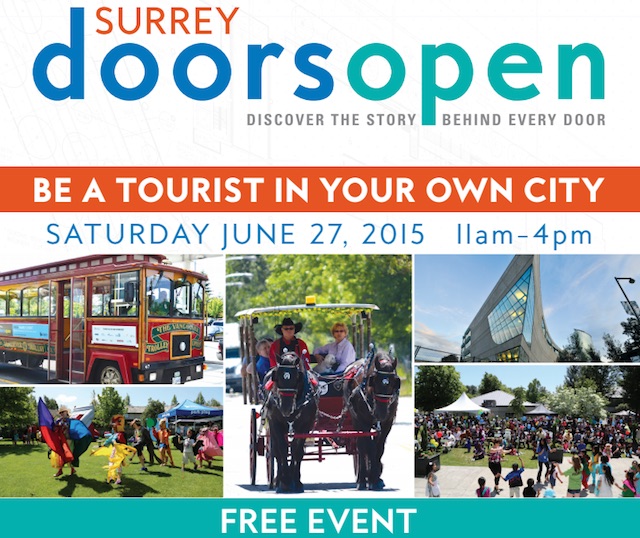 Whalley's Corner Festival
On Saturday, June 27th stop by the 2nd annual Whalley's Corner Community Festival on Grosvenor Road at the intersection of 108 Ave and King George Blvd.
The festival will run between 11:00am and 4:00pm with family-friendly entertainment including Double Shotzz (formerly known as Drift Away), Authentic Board Supply owner and skateboarder Hippie Mike, dancers from Fit For Women Gym, guitarist Jim Abbott, and fiddler Jessica Arthur. Kids can enjoy a bouncy castle, face painting, and balloon art.
This Surrey neighbourhood is where I grew up and it's full of history. Take the opportunity to explore it on June 27th by taking the hop-on/hop-off Surrey Doors Open shuttle on the City Centre Route (there's also a Cloverdale Route).
For more information, see the Doors Open 2015 Event Guide and follow the City of Surrey on Twitter and Facebook using the tag #SurreyDoorsOpen.
Miss604 is a proud sponsor of Surrey Doors Open 2015