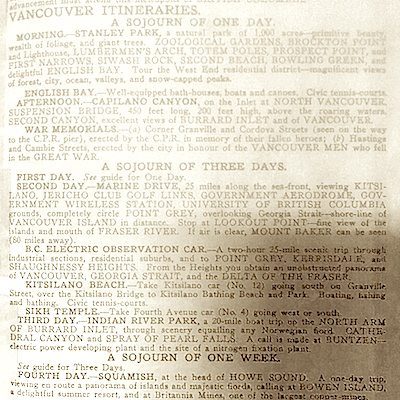 If you only had one day, three days, or a week to spend in Vancouver what would you see and do? On the back of an American tourist map from 1925, one of those ephemeral artifacts I have handy in my family's personal local archives, I found a suggested itinerary for a time when our city was barely 40 years old.
90 years after this map's publication, I'd say most of these suggestions are still spot on. Beaches, Stanley Park, scenic viewpoints, cultural hubs, Squamish, Capilano, Kitsilano, and more. It even suggests taking transit.
Prepared by the Vancouver Publicity Bureau, here is what the suggested itinerary includes:
Vancouver Tourist Tips from 1925 One Day in Vancouver
MORNING– STANLEY PARK, a natural park of 1,000 acres–primitive beauty, wealth of foliage, and giant trees. ZOOLOGICAL GARDENS, BROCKTON POINT, FIRST NARROWS, SIWASH ROCK, SECOND BEACH, BOWLING GREEN, and delightful ENGLISH BAY. Tour the West End residential district–magnificent views of forest, city, ocean, valleys and snow-capped peaks. ENGLISH BAY–Well equipped bath-houses, boats, and canoes. Civic tennis courts.
AFTERNOON– CAPILANO CANYON, on the Inlet at NORTH VANCOUVER, SUSPENSION BRIDGE 450 feet long, 200 feet high above the roaring waters. SECOND CANYON, excellent views of BURRARD INLET and of VANCOUVER.
WAR MEMORIALS– Corner Granville and Cordova Streets (seen on the way to the CPR pier) erected by the CPR in memory of their fallen heroes. Hastings and Cambie Streets, erected by the city in honour of the VANCOUVER MEN who fell in the GREAT WAR.
A Sojourn of Three Days
FIRST DAY. See guide for One Day.
SECOND DAY– MARINE DRIVE, 25 miles along the sea-front, viewing KITSILANO, JERICHO CLUB GOLF LINKS, GOVERNMENT AERODROME, GOVERNMENT WIRELESS STATION, UNIVERSITY OF BRITISH COLUMBIA grounds, completely circle POINT GREY, overlooking Georgia Strait–shore-line of VANCOUVER ISLAND in the distance. Stop at the LOOKOUT POINT–fine view of the islands and mouth of the FRASER RIVER. If air is clear, MOUNT BAKER can be see (80 miles away).
BC ELECTRIC OBSERVATION CAR– A two-hour, 25-mile scenic trip through industrial sections, residential suburbs, and to POINT GREY, KERRISDALE, and SHAUGHNESSY HEIGHTS. From the Heights you obtain an unobstructed panorama of VANCOUVER, GEORGIA STRAIT, and the DELTA OF THE FRASER.
KITSILANO BEACH– Take Kitsilano car (No. 12) going south on Granville Street, over the Kitsilano Bridge to Kitsilano Bathing Beach and Park. Boating, fishing, and bathing. Civic tennis courts.
SIKH TEMPLE– Take Fourth Avenue car (No. 4) going west or south.
THIRD DAY– INDIAN RIVER PARK, a 20-mile boat trip up the NORTH ARM OF BURRARD INLET through scenery equalling a Norwegian fiord. CATHEDRAL CANYON and SPRAY OF PEARL FALLS. A call is made at BUNTZEN–electric power developing plant and the site of a nitrogen fixation plant.
A Sojourn of One Week
See guide for Three Days.
FOURTH DAY– SQUAMISH, at the head of HOWE SOUND. A one-day trip viewing en route a panorama of islands and majestic fiords, calling at BOWEN ISLAND, a delightful summer resort, and at Britannia Mines, one of the largest copper mines.
Related Posts: English Bay Pier, Brockton History, Siwash Rock, Kitsilano Pool.