Surrey Libraries presents Surrey Soiree, an outdoor dining experience at City Hall Plaza on July 11th. Wear your best whites, book a table or cabana, enjoy a three course meal al fresco and support the library's literacy programs.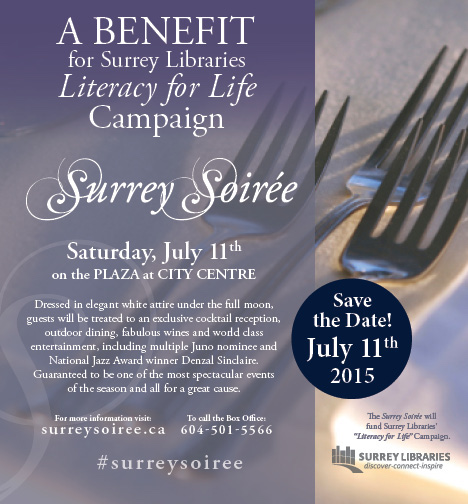 Surrey Soiree Campaign for Literacy
Proceeds from the Surrey Soirée will fund the Literacy for Life Campaign and be directed to all nine Surrey branches in four key program areas: Early Literacy, Workplace Literacy, Diversity/Multicultural and Read-Ability Services. This will ensure our library branches continue to deliver award-winning programming and services, while creating spaces where people can discover, connect and be inspired.
This chic event will take place Saturday, July 11, 2015 from 6:30pm until late. Entertainment includes Denzal Sinclaire at 8:00pm and Agent C & Top Secret at 9:30pm. During the dinner service at 7:00pm guests will be serenaded by the elegant music of The Brandenburg Strings.
Tickets go on sale on Thursday, June 11, 2015. You can purchase a full table of 10 or share a table. Marquee Tents and Cabana tents must be booked directly through the Surrey Libraries via Michelle Andrus [mandrus(at)Surrey.ca or call (604) 598-7318. More information is available online.