The Vancouver Canadians have invited local media personalities (myself included) to step up to the plate at Nat Bailey Stadium on June 24th for the annual Strike Out Heart Disease Celebrity Softball Game. We'll play in a six-inning ball game at this historic stadium in support of the St. Paul's Hospital Foundation.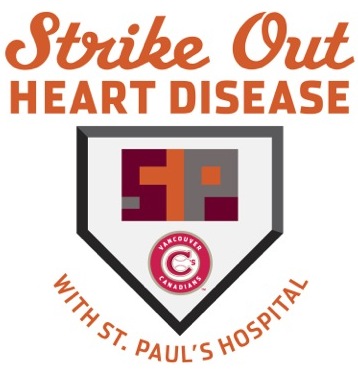 I'd like to invite everyone to this game, where admission is by donation ($2.00 suggested) and 100% of proceeds go to the St. Paul's Hospital Foundation and its efforts to raise funds and awareness of the risks of heart disease. Cash donations can also be made per strikeout throughout the season.
Strike Out Heart Disease is a campaign to support world-leading cardiac research and patient care at the provincial Heart Centre at St. Paul's Hospital, which helps patients throughout the province and around the world. All summer long, Strike Out Heart Disease encourages the public to show their support for St. Paul's at Vancouver Canadians games and at the hospital.
The Vancouver Canadians Strike Out Heart Disease Celebrity Softball Game takes place Wednesday, June 24, 2015 at 6:00pm. Game-goers can expect an action-packed night filled with fan favourites. Dancing groundskeepers, sushi races and concession stand refreshments are quintessential to the experience. Gearing up for the season ahead, fans will enjoy a very special game and get a sneak peek into what's new at the Nat.
Join two teams of local media (TV, radio, print, and digital) personalities, local celebrities and dignitaries, Jake Kerr, Co-Owner of the Vancouver Canadians, and Andy Dunn, President of the Vancouver Canadians for this very special game.