National Aboriginal Day is being celebrated at Canada Place on Saturday, June 20, 2015 with the North Point hosting music, dance, and stories from 11:00am to 5:00pm.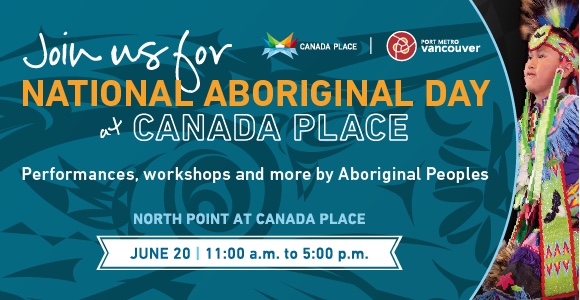 National Aboriginal Day in Vancouver
The event will provide opportunities for guest of all ages to engage with and learn more about Aboriginal culture and will feature a traditional Coast Salish welcome followed by a variety of performances and activities, including drum making, drumming and dance workshops, storytelling, carving and live music.
Guests include Chief Ian Campbell (Squamish), Alex Wells (Lil'wat), Sister Says (Haida and Tsimshian), Coastal Wolf Pack (Musqueam), Andrea Menard (Métis), Children of Takaya (Tsleil-Waututh), and more.
Experience Canada Place's Canadian Trail and visit an artisan marketplace. Learn about traditional carving with Jody Broomfield, drum-making with Justin Kelly and August Williams, and participate in a dance workshop with Shyama-Priya.
A full list of performers and the day's schedule can be found online.
Update: Trout Lake Event
There will also be an Aboriginal Day in BC event at Trout Lake on Sunday, June 21st from 12:00pm to 5:00pm.