The 33rd annual Jessie Richardson Theatre Awards will be handed out on Monday, June 22nd in Vancouver and this year's nominees were recently announced.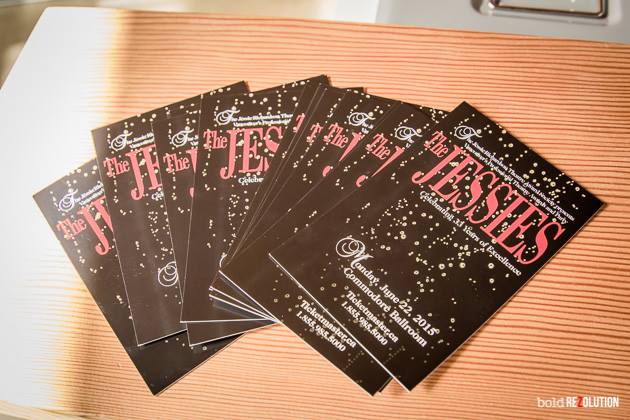 From the organizers: "To say it was a busy theatre season is putting it mildly. There were an abundant number of dynamic productions that displayed the dedication, creativity and excellence of artists. All of these works enhance the vibrancy of our city, enriching its residents and visitors alike."
Jessie Richardson Theatre Award Nominations 2015
As usual, the awards are divided into three categories: Large Theatre, Small Theatre, and Theatre for Young Audiences along with other special awards that comprise the Jessies.
In the Large Theatre category there was a total of 7 theatre companies whose productions were nominated. The Arts Club Theatre Company led the way receiving a total of 19 nominations from six nominated productions with St. Joan receiving 7 of them. Pacific Theatre had another dynamic year earning an impressive total of 11 nominations with The Whipping Man receiving a total 8 of those nods.
Notable this year is Théâtre la Seizième who garnered an impressive number of 16 nominations equally divided between the Large Theatre and Theatre for Young Audiences categories.
The Small Theatre Category was extremely prolific with a total of 21 theatre companies and 23 productions nominated. Pi Theatre's production of Blasted received 8 nominations followed by ITSAZOO Productions presentation of The Competition is Fierce with a total of 7 nominations. Ruby Slippers also had an impressive year with 8 nominations for their production of After Me (Après Moi).
Also under the Theatre for Young Audiences category, 5 nominations were each received by Carousel Theatre for Young People for James and the Giant Peach, The Little Prince by Monster Theatre and Green Thumb Theatre receiving 4 for Celestial Being and 1 for Showdown. Axis Theatre Company received 2 for their new work of Hamelin – A New Fable.
Additional awards that will be presented at the Jessie ceremony include: The Patron of the Arts Award, the Mary Phillips Prize, the Ray Michal Prize for Emerging Director, the Sam Payne Award for the Most Promising Newcomer, the John Moffat & Larry Lillo Award, the Georgia Straight Critics Choice Innovation Award, and the GVPTA Career Achievement Award.
The 33rd Annual Ceremony will again be held at the Commodore Ballroom (868 Granville St) on Monday, June 22, 2015. Doors open at 5:30pm with the ceremony at 6:30pm. Tickets are $29.50 plus service charges, through Ticketmaster 1-855-985-5000 or online through Ticketmaster. The ceremony is produced and directed by Vancouver TheatreSports who always create a hilarious and entertaining program.
As the official Social Media Sponsor, I will be posting live updates from the awards this year. Follow @JessieAwards on Twitter and Facebook for more information.