The Group C teams that we've come to know and enjoy at BC Place have moved on to new venues for their final matches of the round but not before a pair of impressive showings in front of the Vancouver crowd last Friday. With over 5,000 more spectators in attendance, Switzerland blanked Ecuador in a multi-record setting match and Japan held off Cameroon to automatically advance to the Round of 16.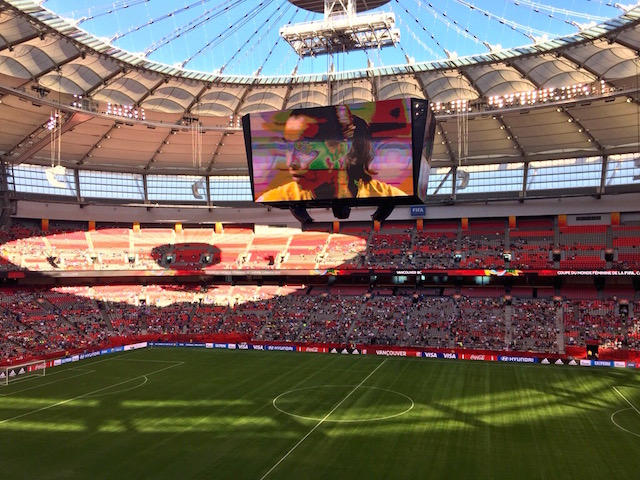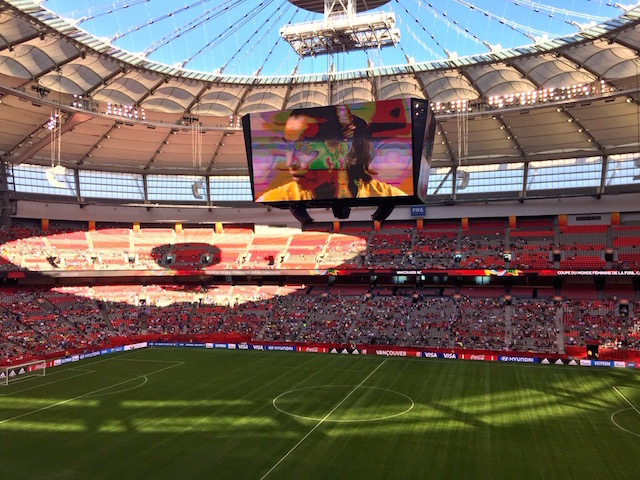 FIFA Women's World Cup
Second Match Day in Vancouver
Taking my place once again in the 400 level media tribune, the Top 40 tunes blasting through the loud speakers switched over to AC/DC as teams took to the pitch to warm up. The big screen panned through the crowd to find super fans sporting face paint, flags, drums, and one Swiss supporter with two giant cowbells about the size of soccer balls.
Switzerland's speed and spot-on combinations put them ahead 2-0 in the first half against Ecuador but the fire in their bellies must have been lit during the break because the team came out in the second half with their boots blazing. Fabienne Humm scored at 47′, 49′ and 52′ to earn the fastest hat trick in FIFA Women's World Cup history. With a final result of 10-1 in favour of Switzerland over Ecuador, the match was tied for the highest scoring in the tournament's history. Another record!
One thing I've noticed about these women's matches is that the pace is incredibly quick. If a player is knocked down, it's rarely embellished and within a few second she gives a "thumbs up" to show she's fine and play can continue. Even this has only happened a few times in the last four matches I've seen in person, including once this match when a player from Ecuador hit the turf and was up again within a minute.
In the post match press conference, Edcuador's coach Vanessa Arauz said that this match proved that Switzerland can play at a higher level. "For Ecuador, this is our first world tournament and it has been difficult for us to control the ball, but we were able to do it for 25 minutes in the first half."
"We in Ecuador have a lot to learn, we need more support to achieve a more heightened level of play," coach Arauz added. Her players are all amateurs and have learned a lot so far, and have even more room to grow. She's hoping to get some support back home to help develop women's soccer. Every match is a part of the development of their story as a team and paves the way for future generations. "Hopefully in some years you will see a better Ecuador."
Despite the overwhelming loss, they are still optimistic and find solace in the fact that the players have had this experienced, and have been exposed to this level of play. As a host city spectator, it was great to see every debutant team score at least one goal.
Coach Martina Voss-Techlenburg was in much better spirits today following her Swiss team's triumphant win. "I don't want too sound arrogant, but I was expecting us to score a lot of goals." When she was asked about racking up the score, continuing to put pressure on goal even though they had a runaway victory. She said it's always important to keep scoring, then looked over at Ramona Bachmann, the Player of the Match, and asked her if she liked scoring. Yes? Then keep scoring! "We tried to keep on scoring because we knew it could be important in the final group standings." Bachmann gave a nod to the Ecuador team who did quite well to make things difficult for them during that first half.
ATTENDANCE: 31,441 – Record crowd for an int'l soccer match in province of British Columbia http://t.co/4Ym2CpE8oC pic.twitter.com/dLPwZB7bht

— FIFA Women'sWorldCup (@FIFAWWC) June 13, 2015
During the second match of the double header the attendance of 31,441 was announced. Japan's supporters kept up a steady stream of chants as Cameroon soon made fans out of the entire stadium for their valiant and powerful effort against the champions. They charged up the field with every chance they had but Japan kept their cool, made the right connections and combinations, and came away with a 2-1 victory.
Coach Enow Ngachu of Cameroon was happy with the effort put forward by his team. "We played very well after being down two goals to none… We expected to have difficulties after playing against one of the best defences in the world." Coach said he was very happy and excited to see the support for Cameroon in the stands at BC Place and it was his hope that Canadians would support them. "We've still got a game against Switzerland and we are going to do everything possible to qualify for the second round."
Cameroon didn't win, but won our hearts. Thanks #vanfanzone #WorldCup2015 @CityVancouverBC @Miss604 pic.twitter.com/K5LqO0er2c

— Robin Wong (@mrkarmajunkie) June 13, 2015
The Player of the Match was Aya Miyama of Japan, her second honour of the tournament. She told the press conference crowd that it was a difficult match but they were successful in their defending. "The game was very tense and had close moments but it was fun." Coach Norio Sasaki said that the technical level of play between the teams has been very close, even for those with very different world rankings, so he says they won't have any easy games in the future.
Thank you @CocaCola and @Miss604! #FIFAWWC2015 pic.twitter.com/QyFsvUUwMQ

— Marsalie Black (@marsaloon) June 13, 2015
Matches like those on Friday amplify everyone's excitement for this tournament. The scene outside BC Place post-match has been the same on both nights I've been there, a lineup forms at the box office as fans clamour to book their next FIFA Women's World Cup experience in Vancouver.
Next Matches at BC Place
Three of the four teams that set out in Vancouver earlier this month were making their FIFA Women's World Cup debuts, and the fourth was the reigning world champion. Ecuador will now face Japan in Winnipeg while Switzerland and Cameroon will play (what I anticipate to be a very exciting match) in Edmonton.
Coming up, the next matche at BC Place is Tuesday, June 16th with Nigeria vs USA.
Sunday, June 21, 2015: Round of 16 (1st of Group A vs 3rd C/D/E)
Tuesday, June 23, 2015: Round of 16 (1st of Group C vs 3rd A/B/F)
Saturday, June 27, 2015: Quarter Final
Sunday, July 5, 2015: FINAL
Check out the full schedule for all Canadian host cities online and be sure to get your tickets as well, let's fill those seats in BC Place!
Win World Cup Tickets
I'm still giving away World Cup tickets via the City of Vancouver's Fan Zone located at Georgia and Cambie in Downtown Vancouver. Stop by the celebration site, watch some matches, have some fun, snap a selfie, tag it @Miss604 and #VanFanZone on Twitter and you could be the ticket winner that day. The Fan Zone is open June 15, June 16, June 21, June 23, June 27, July 1 (Canada Day), July 4, and July 5. Get the detailed schedule here.