The Round of 16 quarterfinal matches will soon be underway in host cities across Canada as the FIFA Women's World Cup competition heats up. After hosting Group C (Japan, Switzerland, Ecuador, Cameroon) at BC Place, Vancouver welcomed fans of the USA and Nigeria on Tuesday as 52,193 spectators packed the stadium, painting the town red, white, blue, and green.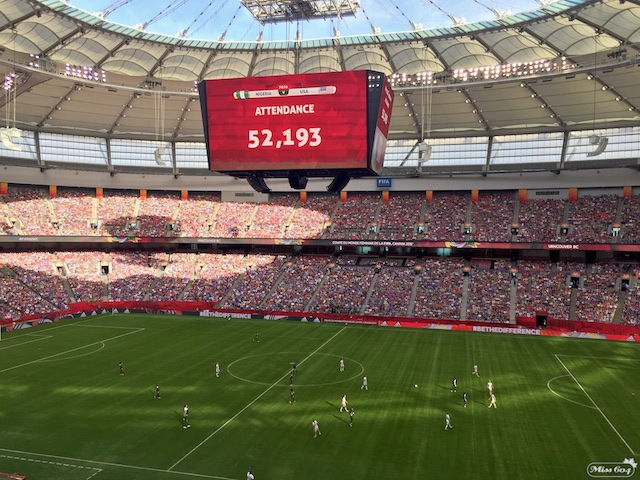 Breaking attendance records, scoring records, and much more, here are some stats about the tournament so far:
Spectators
Total attendance: 885,369
Average attendance: 24,594
Biggest attendance: The double header on June 6th featuring New Zealand vs Netherlands and Canada vs China in Edmonton. It set the Canadian record for any national team playing at home with 53,058 spectators.
Play and Players
Number of goals: 107
Goal average: 2.97
Marta (BRA, 10) became top scorer in FIFA Women's World Cup™ history with 15 goals.
Fabienne Humm (SUI) scored the fastest hat-trick in FIFA Women's World Cup™ history, 3 goals in 5 Minutes.
Christie Rampone (USA) became the oldest player in FIFA Women's World Cup™ history.
Cameroon is the second African side to move on to the knock-out stages after Nigeria in 1999.
Television
About 2.3 million viewers tuned in to CTV, TSN and RDS to watch Canada's match against New Zealand, a record for any FIFA Women's World Cup™ audience in Canada.
USA against Sweden was watched by 4.5 million viewers on Fox, an American viewing record for any FIFA Women's World Cup™ group stage match and the most popular football match ever broadcast on the channel.
Japanese audiences are also growing, with 6.1 million fans enjoying FUJI TV's coverage of their nation's game against Cameroon, beating all viewing figures from the 2007 edition of the competition and higher than all figures for 2011 except the final.
Germany's matches have been topping daily German viewing figures and more Chinese viewers are tuning in to watch the competition compared to 2011.
French broadcaster W9 recorded its highest audience on record, attracting 2.2 million viewers for the France-Mexico clash.
Fan Zones
So far in the tournament the Fan Zones across the six venues have been well attended with the Vancouver site proving the most popular destination with over 44,000 fans attending the first six opening dates. As a reminder: You can enter to win tickets to FIFA Women's World Cup matches every day the Vancouver Fan Zone is open by tweeting a selfie to @Miss604 with the tag #VanFanZone. Read full contest details here.
FIFA Women's World Cup Round of 16
Moving on to the next round of play, qualifying teams have advanced to the Round of 16 that includes two knock-out matches at BC Place: Canada vs Switzerland on Sunday, June 21st, and Japan vs Netherlands on Tuesday, June 23rd. Canada vs Switzerland has less than 3,000 tickets remaining.
Purchase your tickets online today or from the BC Place box office at Gate A. View the full match schedule online.