53,855 spectators attended the Round of 16 knock-out match between Canada and Switzerland on Sunday, making it one for the records books with the highest attendance for any national team match (any sport, men or women) ever in Canada. With a slow start to the match in the first half, both teams came out ready for battle in the second with Switzerland putting up a valiant effort in front of the Vancouver crowd.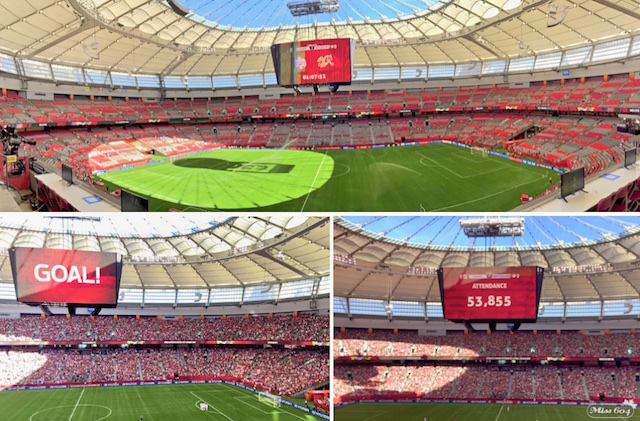 "We were really impressed with the support at BC Place, it was brilliant tonight," Team Canada's Coach John Herdman told media after the match. "Walking out in front of 50-odd thousand people and who would have thought for women's football. It was just one of those surreal days."
Supporters on the upper level of the stadium's south end kept a steady drum beat going along with modified Whitecaps FC songs, with the rest of the crowd joining in intermittently for a simple "Ca-na-da! (clap, clap, clap)" chant.
In the press conference, Switzerland's Coach Martina Voss-Tecklenburg thanked the Canadian audiences in Edmonton and Vancouver for being welcoming and friendly. She also reflected on their play and their time at the World Cup: "What didn't work? We didn't score a goal. It was a highly intensive match, it was exactly what was expected." She said that she feels badly for her players but at the same time, this has been a huge experience for them. Switzerland made their FIFA Women's World Cup debut at this tournament and they're now looking ahead to Euro 2017.
The next guest in the press conference room was Canada's goalkeeper — and Player of the Match — Erin McLeod who praised her teammates and talked about working up to that 1-0 victory.
"There have been a lot of upsets in this tournament already, and we want to go all the way and we've set a lot of even bigger goals of inspiring a country and not just on the soccer field." After a first half that only saw one corner kick and one shot on goal, both teams knew they had to step up their play. "I thought in the first half it took us a while to get into our groove and then we did. I mean obviously you're always relieved when your team scores, but I thought we got better and better as the game went on."
"I really believe the women on this team and the staff can take us all the way."
Erin McLeod
McLeod said that Coach John Herdman put it simply in the locker room at half time: "[He] said that we can't have any regrets, nobody's walking, no one's going to be stagnant. This second half we're going for it — and everybody did."
She admits her job is made easier by the back line, who she says has been phenomenal for the team this entire tournament, calling out Sesselmann ("Sess"), Wilkinson, Chapman ("Chappie"), and Buchanan. "Kadeisha [Buchanan] I think will be the next best player in the world."
Coach Herdman also had praise for goal scorer Josee Belanger who was close to retirement before he approached her to join Team Canada for this once in a lifetime opportunity. "No one else had that striking prowess outside of [Christine] Sinclair so we knew we had to get her in, hell or high water. We tried everything, she was getting ready to settle down and have kids, and we talked her back into the program."
When asked about Christine Sinclair "taking stick" or a lot of criticism lately, Herman jumped to the defence of the team captain. "That women doesn't deserve to take stick, she's a world class person, a world class player. She gives everything to this team, every single game […] international football ain't easy and Sinclair is giving everything, every single game. Off the pitch she's doing more than she's ever done before to keep this team connected. She's the pride of our country, and she's going to stay there. We should be proud of what that woman's putting into this Women's World Cup for our team."
FIFA Women's World Cup Quarter Finals
You can cheer on Team Canada at BC Place again this Saturday, June 27th as they take on the winner of today's Norway vs England match England. Purchase your tickets online today or from the BC Place box office at Gate A. View the full match schedule online.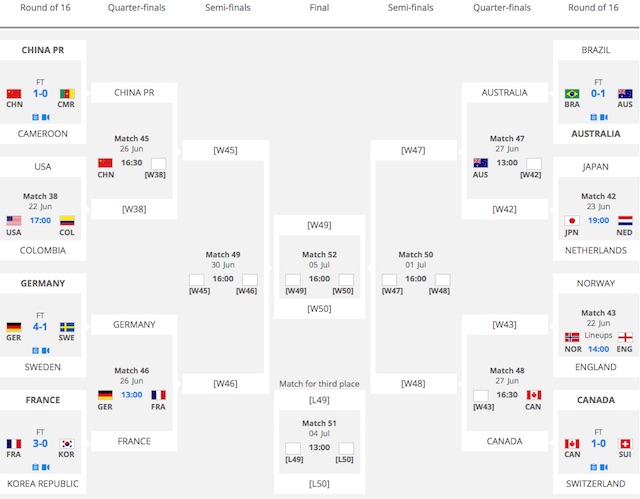 Vancouver Fan Zone
You can enter to win tickets to FIFA Women's World Cup matches every day the Vancouver Fan Zone is open by tweeting a selfie to @Miss604 with the tag #VanFanZone. Read full contest details here.