The cause-driven online marketplace, darelle, is launching a campaign this week in Vancouver by donating up to $25,000 to charities. They will donate $1 for every eligible new user that registers and joins a 'Buy Request' between June 29th and July 12th, 2015.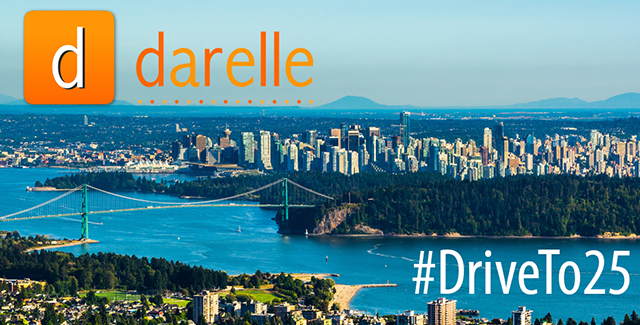 How it Works
darelle uses an innovative supply and demand model that benefits charities, businesses, and consumers. By participating in "Buy Requests", users can express interest in any given product or service, with no commitment to buy. The team at darelle then takes that interest to local businesses, who can place offers on the requests made by consumers. It brings engaged customers to businesses, it gives great value to consumers, and darelle donates 25% of the revenue they earn from transactions to charities chosen by users of the site.
The #DriveTo25
darelle wants to donate up to $25,000 to eligible local charities over a two week period. Each new user of the site during this time can choose any of the charities registered with darelle, and as long as they join one Buy Request (remember, that is not a commitment to buy, just an expression of interest) then darelle will donate $1 per user to that charity.
To sweeten the pot a little, they are also doing a draw for one new user each week for a $500 gift card to any of the businesses registered on darelle (dinners out, local trips, and more).
Follow darelle on Twitter, Facebook, and the tag #Driveto25. Find out more by visiting darelle.com/driveto25.