Bring your four-legged friend to the Whitecaps FC 2 match this Sunday as our USL team hosts Bark at the Bird, at UBC's Thunderbird Stadium.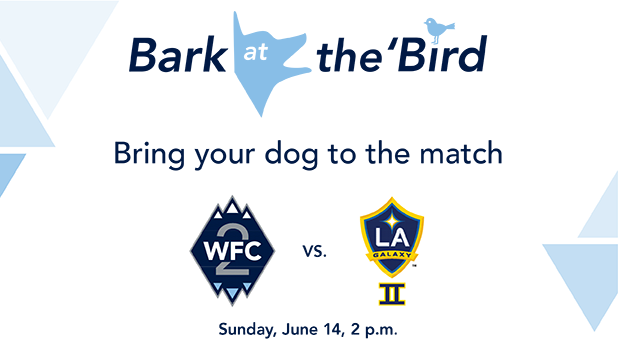 Bark at the Bird
Whitecaps FC 2 will face off against LA Galaxy 2 on Sunday, June 14th and those wishing to bring their dogs to the match can do so for just $5, with proceeds supporting the BC SPCA. Tickets (for humans) are just $11. You can also dress your dog for the game as Whitecaps FC dog merchandise will be on sale.
These matches have a festival atmosphere with family activities, food trucks, a beer garden, and USL soccer star action on the pitch.
Whitecaps FC 2 Tickets
Tickets and family packs are available now for all WFC2 home matches. Single tickets are $15 and family packs (family season passes) start at $199. Regular group tickets are just $11. Find the full schedule online, through to September 2015.
About Whitecaps FC 2
Whitecaps FC 2 features first-team players from Vancouver's MLS team, players signed to USL contracts by Whitecaps FC 2, and players from Vancouver's Residency program. USL allows teams to carry as many as five Academy (aka Residency) players on their roster. Among the MLS players who have already featured this season are goalkeepers Marco Carducci and Paolo Tornaghi, defenders Christian Dean, Tim Parker, and Ethen Sampson, midfielders Kianz Froese and Ben McKendry, and striker Caleb Clarke. Read more about Whitecaps FC 2 in this season guide »